Make an impact
At ADK, it's all-hands-on-deck to create game-changing products for mission-driven clients that push the world forward. We are a collection of passionate and humble individuals, collaborating on technology that makes better, and more inclusive, experiences.
Join the team!
Our LinkedIn profiles may say "solutions architect", "software engineer", "web developer", or "UX designer" – but as a team we're really translators. We translate human ideas into beautiful digital applications and custom technologies. And we'd love your help.
Apply Today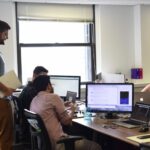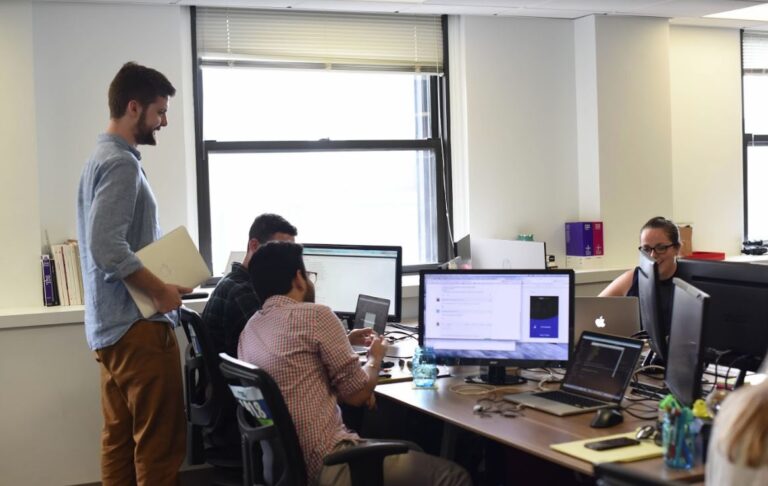 "Working at ADK Group has been a truly gratifying experience. Everyone is so smart and talented, yet so personable and humble. We grow and learn together in so many different ways, all while collaborating with passionate people and leaders."
Jordan Daly
6 Years with ADK Group
Life at ADK
We want what's best for our team, which is why we offer benefits that enable a healthy work-life balance:
Generous PTO: paid sick time, paid holidays, family medical leave, parental leave
401(k) retirement matching
Flexible working environment: Remote working program, company outings, happy hours
Paid benefits: Health, dental, vision, disability insurance and more.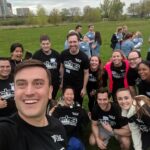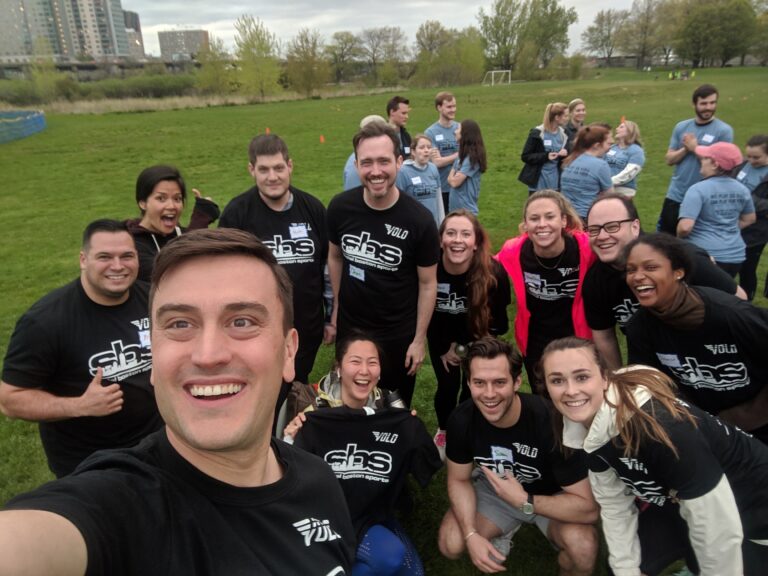 Our Offices 
3 Primary Locations and Remote Working Options
ADK's engineering team is primarily based in downtown Boston, with additional talent hubs continuing growth in Louisville, KY, and Medellín, CO.
ADK is also a subsidiary of projekt202, with additional locations in Atlanta, Austin, Chicago, Dallas, San Francisco, Seattle, and Kuala Lumpur.
View Open Roles
Rooted in philanthropy
Our affiliated 501c3, ADK Charities, puts small investments and resources to help grow charitable efforts. Our work spans rollerblading across the country for autism awareness, refurbishing laptops donated to Haitian schools, and NYC scavenger hunts for Opioid fundraising.
Open Positions By Department
Engineering Roles
Business Development Roles
ADK Group, a projekt202 company, is a Boston-based technology consultancy that has built digital products for leading local startups like Firefly Health and Wasabi Technologies and global institutions like Mass General Brigham, Santander Bank, and Brown-Forman. We are a part of projekt202, a global experience-driven transformation consultancy. The ADK team is primarily based in downtown Boston, with additional talent hubs in Louisville, KY and Medellin, CO.

ADK is looking for a creative thinker that can work with clients to help them bring their ideas to reality by creating and building software and web applications that are innovative, purposeful, and efficient. You'll help clients do this using cutting-edge technologies with a team of amazing designers, architects, and engineers.

In this role, you will work to build relationships with potential clients, understand their needs, and communicate the value of what ADK can do for them.  

Job Description

The Director of Business Development is the owner of customer relationships. They are passionate ambassadors for our mission and are able to articulate our value in the Boston market. The Director of Business Development (DBD) reports to the Boston General Manager (GM), and will directly source, close, and manage business opportunities that support the company's service offerings. The DBD will create a targeted account list with a local/regional focus and is the owner of the customer relationship and sales process. The DBD is responsible for selling a minimum of $3m in revenue a year. They will collaborate with Practice Leaders (Strategy, User Experience, Technology, and Branding & Marketing) to assist with conversations, presentations, meeting coordination, proposal development, and estimating to move opportunities through the sales pipeline and closure.

Responsibilities

Work with the General Manager (GM), leadership and sales team to create and maintain a sales plan which is tied to a Targeted, Regional Account List, and includes a strategy and tactics on how to win new accounts and cultivate the growth of existing accounts
Create and maintain a pipeline of opportunities with a total value of three times your sales quota within the Targeted Account List
Capture weekly business development activities in CRM system, and other tools
Participate in weekly business development meetings
Collaborate with the GM and leadership team to develop the proper pursuit team for each opportunity
Offer a strategic mindset to grow accounts, relationships, and close business
Establish personal networks and maintain professional and technical knowledge by attending educational workshops; reviewing professional publications; participating in professional societies, etc.
Monitor competition by gathering current marketplace information on pricing, and offerings
Work with the GM and leadership team on billing rates and pricing structure for each opportunity
Successfully negotiate Statements of Work (SOWs) terms and conditions with prospects and clients
Document all client feedback and decisions during sales and account development activities
Develop, cultivate, and maintain customer relationships to build trust on existing accounts through regular meetings, consultative sessions, and difficult conversations
Identify and form relationships with decision-makers; understand their needs to continuously adapt our strategy to their changing business environment or requirements
Spot trends/identify opportunities within an account
Seek new relationships and network within an account for continuous expansion
Work effectively with the GM and Program Management to ensure forecast accuracy and maintenance
Collaborate with delivery team on active projects to support the team and client; support team when issues are escalated
Communicate and disseminate client requests to team and manage client expectations
Escalate any problems that arise
Conduct quarterly business reviews with all assigned accounts
Share your excitement when your clients succeed and help them find success when they struggle

Qualifications and Requirements

Hunter mentality with a strong focus on new business development
5+ years of Solution Sales / Consulting Sales experience in one or more of the following: Technology, Design Research, User Experience, and/or Brand & Marketing
Outstanding written and oral communication skills
Organized, task-driven
Customer-centric, relationship-driven
Highly collaborative, self-starter
Previous creative/digital agency / consulting experience is preferred

Compensation, Benefits, and Perks

Comprehensive medical, dental, and vision coverage through Cigna
401k matching
Employer-paid short term and long term disability
Employer-paid life insurance
Student loan repayment program
Generous PTO
Commuter benefit plans
Cell phone reimbursement of $75 a month
Flexible work environment at a state of the art, centrally located facility
Significant internal growth opportunities (we're growing quickly!)

Are you up to the challenge?

ADK Group, a subsidiary of projekt202, LLC. is an equal opportunity employer, and we value diversity at our company. We don't discriminate on the basis of race, religion, color, national origin, gender, sexual orientation, age, marital status, veteran status, or disability status.

Apply Now

ADK Group, a projekt202 company, is a Boston-based technology consultancy that builds websites, web applications, and mobile applications for leading local startups like Firefly Health and Wasabi Technologies and global institutions like Mass General Brigham, Santander Bank, and Brown-Forman. We are a part of projekt202, a global experience-driven transformation consultancy. Our headquarters are in Boston, Massachusetts, with offices in Louisville, Kentucky, and Medellín, Colombia. Our culture embraces adventure and philanthropy, with a focus on teamwork.

As we continue our growth, we are looking for a Client Application Associate (CAA) to join our Boston team who is ready to jump into a fast-paced, entrepreneurial environment and take on/execute a wide range of challenging tasks and projects. The CAA will be responsible for monitoring and managing ADK's maintenance clients and supporting project leaders on digital projects. Serving as the main point of contact for a variety of clients with ongoing levels of digital services, you will work with our internal team of project managers, marketers, web developers, and designers to ensure that requests are addressed within budget, in a timely manner, and to the client's satisfaction.

This is an outstanding opportunity if you have strong communication skills, are timeline and detail-oriented, and are interested in gaining exposure to many types of digital projects and engagements.

Responsibilities

Monitor and manage our helpdesk/ticketing system across active maintenance engagements.
Coordinate resources and define/communicate technical task details to the development/design team.
Respond to clients regarding site bugs, enhancement requests, development tasks, and more.
Take initiative in attempting to reproduce bugs, asking follow-up questions, and identifying/communicating when requests go beyond the scope of an existing arrangement.
Improve service levels while ensuring profitability.
Identify opportunities for new scopes of work with existing clients, and work with account managers to propose and implement change orders.
Provide support to Project Managers as needed.
Other tasks as assigned.

Requirements

Bachelor's Degree
Superior time management and organizational skills with experience working on multiple tasks with multiple deadlines
Exceptionally strong interpersonal and client management skills
Excellent writing/proofreading skills
Ability to think creatively and problem solve
Self-motivated
Team player
Authorized to work in the U.S.
1-2 years of experience working within a client-facing role in either a technology or marketing agency is a plus

Compensation, benefits, and perks:

Competitive market salary
401k matching
Comprehensive medical, dental, and vision coverage
Employer-paid short term and long term disability
Employer Paid life insurance
Flexible work environment in downtown Boston
Significant internal growth opportunities (we're growing quickly!)
Professional development opportunities

Are you up to the challenge?

ADK Group, a subsidiary of projekt202, LLC. is an equal opportunity employer, and we value diversity at our company. We don't discriminate on the basis of race, religion, color, national origin, gender, sexual orientation, age, marital status, veteran status, or disability status.

Apply Now

ADK Group, a projekt202 company, is a Boston-based technology consultancy that builds websites, web applications, and mobile applications for leading local startups like Firefly Health and Wasabi Technologies and global institutions like Mass General Brigham, Santander Bank, and Brown-Forman. We are a part of projekt202, a global experience-driven transformation consultancy. Our headquarters are in Boston, Massachusetts, with offices in Louisville, Kentucky, and Medellín, Colombia. Our culture embraces adventure and philanthropy, with a focus on teamwork.

As we continue our growth, we are looking for a Client Application Associate (CAA) to join our Boston team who is ready to jump into a fast-paced, entrepreneurial environment and take on/execute a wide range of challenging tasks and projects. The CAA will be responsible for monitoring and managing ADK's maintenance clients and supporting project leaders on digital projects. Serving as the main point of contact for a variety of clients with ongoing levels of digital services, you will work with our internal team of project managers, marketers, web developers, and designers to ensure that requests are addressed within budget, in a timely manner, and to the client's satisfaction.

This is an outstanding opportunity if you have strong communication skills, are timeline and detail-oriented, and are interested in gaining exposure to many types of digital projects and engagements.

Responsibilities

Monitor and manage our helpdesk/ticketing system across active maintenance engagements.
Coordinate resources and define/communicate technical task details to the development/design team.
Respond to clients regarding site bugs, enhancement requests, development tasks, and more.
Take initiative in attempting to reproduce bugs, asking follow-up questions, and identifying/communicating when requests go beyond the scope of an existing arrangement.
Improve service levels while ensuring profitability.
Identify opportunities for new scopes of work with existing clients, and work with account managers to propose and implement change orders.
Provide support to Project Managers as needed.
Other tasks as assigned.

Requirements

Bachelor's Degree
Superior time management and organizational skills with experience working on multiple tasks with multiple deadlines
Exceptionally strong interpersonal and client management skills
Excellent writing/proofreading skills
Ability to think creatively and problem solve
Self-motivated
Team player
Authorized to work in the U.S.
1-2 years of experience working within a client-facing role in either a technology or marketing agency is a plus

Compensation, benefits, and perks:

Competitive market salary
401k matching
Comprehensive medical, dental, and vision coverage
Employer-paid short term and long term disability
Employer Paid life insurance
Flexible work environment in downtown Boston
Significant internal growth opportunities (we're growing quickly!)
Professional development opportunities

Are you up to the challenge?

ADK Group, a subsidiary of projekt202, LLC. is an equal opportunity employer, and we value diversity at our company. We don't discriminate on the basis of race, religion, color, national origin, gender, sexual orientation, age, marital status, veteran status, or disability status.

Apply Now