Experience Design
Design, Strategy, and Road-Mapping – The Foundations of Digital Product with Alyssa Gray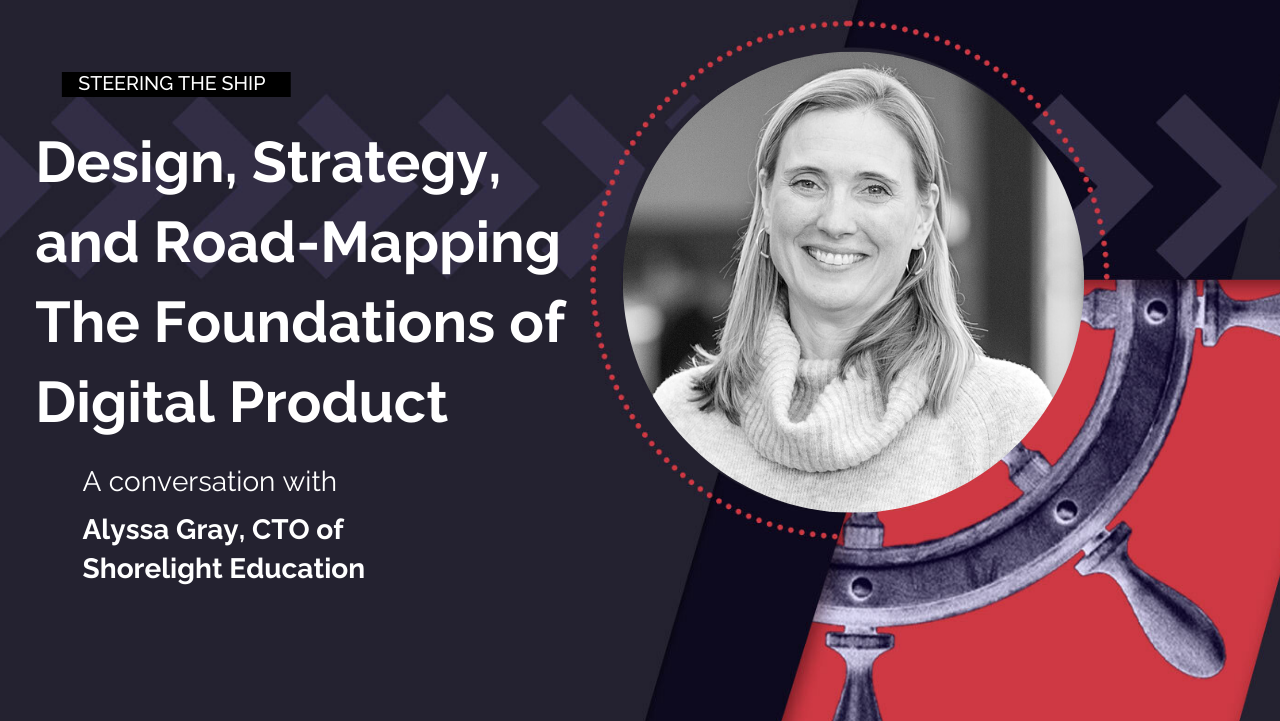 Editor's note: In our Steering the Ship series, we chat with product leaders in various industries. Today, we're sharing a conversation between Alex Fedorov, VP of Design at ADK Group, and Alyssa Gray, CTO of Shorelight Education. 
In this post, you'll learn some of Alyssa Gray's tips for managing digital products and working toward long-term goals with proper planning and strategy. You'll gain insight into 
the role of strategy in product design,
her user research tactics,
her advice for effective product roadmapping, and more.
Shorelight Education is an educational technology platform that creates opportunities for international students, universities, and counselors. They expand options for students from all over the world to learn at top-ranking universities in the U.S and online. Gray is the CTO of Shorelight Education and has 20 years of EdTech product development experience.
Let's dive into Gray's product design strategy.
Design Strategy
The team at Shorelight Education built one of their three external-facing products, called Shorelight Live, using a product development approach that was very much a "by-the-book design strategy," as Gray says. They partnered with ADK Group to develop a strategy and build Shorelight Live using a design-centered approach. 
This strategy became the blueprint for the other products that followed. 
What is Design Strategy?
Architect Frank Lloyd Wright once said, "You can use an eraser on the drafting table or a sledge hammer on the construction site." 
When Gray refers to design strategy, she's talking about the research, decision-making process, and active principles around how Shorelight approaches design and experience for their products. 
Some aspects of that include things like: consistent messaging, minimizing friction, providing in-context help, accessibility, how UI components behave and look, consistency across products, and how much/little various products overlap. 
It's very much the design planning and thinking of the greater suite of products vs. the design of a screen or component at this level.
Having an effective design strategy (and implementing it successfully) is foundational in achieving your long term business objectives. With the proper planning and strategy, you're laying the groundwork for success by doing things the right way from the beginning, so you're not left doing extra work later on or managing incongruent experiences.
When Shorelight Education built one of their products—their admissions portal—they made sure design thinking and strategy was part of the development process. They relied on techniques like collecting boots-on-the-ground feedback with current customers, as well as spending time in China to perform interviews and collect data directly from one of their largest user bases.
Gray's Favorite Product Management Tools
The technology teams at Shorelight Education rely on two Atlassian products—Jira and Confluence—for product management. They also used the roadmap software "Aha!" as another product management tool, but they weren't quite ready for it, as they're working on merging their three products into one first.
Building or buying product management software
When it comes to making build vs. buy decisions for tools, Gray's approach is to consider whether or not you want (or are able to gain) a strategic advantage over an experience. 
If an industry already exists behind a product or tool, you're not going to gain a strategic advantage from this, so Gray recommends buying a product in this scenario. For example, Shorelight Education uses a learning management system (LMS) for their Shorelight Live platform. The team determined that it wasn't necessary to build this product from scratch, so they partnered to utilize an off-the-shelf LMS, and they added the experience pieces that we wanted to incorporate as strategic drivers.
If you want to gain a strategic advantage and to have more control over an experience, it makes sense to build a custom product in-house, especially if the product is a strategic driver for your growth. Gray also brings up the important point that you need to take a step back and consider how the overall product experience will come together when you're blending products that you've built and bought. This is part of every decision for Gray and her team when building a product experience.
Shorelight Education also relies on tools they've bought for internal use, like Dropbox Paper. However, they're working to upgrade from these systems to other methods that will allow them to better manage their products and ensure the products are aligning with their overall strategy and longer-term planning. 
But, ultimately, Gray emphasizes, the tools you use don't really matter until you have a strategy in place. Design-leader and entrepreneur Om Suthar echoed this point when discussing digital product management in a recent blog post. Once you have a strategy, you can decide what tools work best for your team, and if you get to a point when certain methods are no longer working, you can always pivot and try a different product. 
Product Strategy vs. Product Roadmapping
Gray has done a lot of product roadmapping over the years and has learned some tricks along the way. Currently, she's focusing on standardizing Shorelight Education's roadmap process, as there is misalignment among how different teams are going about the process. Her goal is to make sure strategies are aligned, and to have that drive product roadmapping. Gray is also working on integrating OKRs to tie product development to outcomes so they can be measured.
OKR, or objectives and key results, is a collaborative goal setting framework used to set goals with measurable results. Teams use OKRs to track progress and create alignment around goals.
In Gray's opinion, "Roadmapping is important, but not as important as having alignment on strategy and the outcomes we're trying to get to ensure our roadmaps are aligned with it." It can be too easy to dive into roadmapping without having an understanding of the broader context and long term goals. 
The product strategy should provide the context needed to link your company's overall strategy to how your product is delivered as defined by a product roadmap. An effective product roadmap should connect your product strategy to executable steps you can achieve and measure with product goals. 
So while the product strategy describes what your product needs to be and do in order to achieve your company's mission, the product roadmap is a prioritized sequence of investments and changes your team will make in the product.
As a product leader, you need to make sure your team is aligned on the product strategy, focusing on the right steps in your roadmap, and using the right metrics to measure progress. This order of planning enables your product to contribute effectively to the company's overall mission. Crucially, though, it helps your team say "no" to many of the distracting goals and features you'll run into along the way.
Prioritizing Long-Term Strategic Planning
Gray's team has their development process prioritization techniques down, as well as their management of feedback loops. However, Gray recognizes that the step before these ones (which is—as you may have guessed—longer term strategic planning) needs to be prioritized. 
Every startup or early product organization eventually has to make this shift from rapid iteration and tactical product work to longer term strategic planning. It's not that tactical work is a dirty word. It's often right (read: necessary) for early stage companies. 
But at a certain stage, you need to graduate to building long term strategic advantages and scaling your team. Those both require the clarity and coordination that only comes from redefining your strategic direction.
Strategic alignment, or in other words, linking languages across different teams to connect their efforts to the overall organizational goals and strategy, is something that Gray is focused heavily on. 
Are your prioritizing the right things?
Prioritizing initiatives is one of the most important roles a product leader has. Double down on your confidence with these actionable guidelines to prioritize with confidence.
To download this report, please tell us a little about yourself:
https://www.adkgroup.com/wp-content/uploads/2018/08/Deciding-Whats-Next-ADK.pdf
Why is Strategic Alignment So Important?
Gray's emphasis on strategic alignment and consistent experiences is something we've seen echoed across a lot of the edtech space. But the educational technology industry didn't always place such a heavy focus on the user experience. Gray noted that there has been a shift in priorities lately, where EdTech companies have started really focusing on making sure customers are happy with the tools they're using and ensuring that the tools are easy to use. 
This isn't a pattern unique to education technology. With the internet being the primary mode of communication between most companies and their customers, your product experience is inextricably linked to your brand and customer experience.
Part of the reason, then, that alignment is paramount is that digital experiences require complete coordination to create a pleasant experience for the user. Most good design is invisible – it's so fluid and makes so much sense that as users we don't even need to think about it. But even if something's a little bit off it can make the whole experience feel broken or erode trust. This means the entire team or organization needs alignment and agreement on the set of goals they're working towards. 
Creating Alignment Within Your Company
Miscommunication is one of the main factors that leads to misalignment in companies. For example, a product designer may express an idea that is interpreted in an entirely different way by another designer or a product manager. Understanding that you will experience miscommunication within your team (and putting processes or documentation in place to reduce lapses in communication) will help you work toward minimizing churn and creating cohesive experiences for your users. This will also help you improve alignment with other teams, like engineering.
Having a clear strategy and clear vision of your company's goals makes decision making easier. However, here's a secret: decision making and prioritization doesn't have to be as painful as it usually is. When it's painful, that's a symptom of unclear or misaligned long term goals or strategy. Digital products are complicated enough without murky goals. By improving clarity about your priorities, you'll melt inefficiencies and help improve team morale. 
Editor's note: Having a clear product strategy is easier said than done, and is always the result of serious investment and dedication to uncovering truths about your users and your market. If you have any doubts about your direction and want to schedule a strategy session with one of our experts, let me know.
How Gray is Applying Strategy to Product Design
Right now, each of Shorelight Education's three products represents a persona or role. Initially, Gray's team thought there wasn't a lot of overlap between audiences (agents, students, and universities) and how they interacted with the products. However, they've learned that there is actually a lot of consistency in how different users interact and share information. 
In the eight years that Shorelight Education has been in business, they've developed a deep understanding of their user base, which allows the team to build and modify products for their users with more confidence. Building the right product for your users—and your company—always comes from having an in-depth understanding of your customers. This is why effective user research can become a moat for the companies that invest in it: if you know your users better than your users, you'll be able to provide better experiences and build stronger relationships.
Shorelight Education is currently working on bringing together their three products to manage them in a more unified way. Since there is so much overlap between how different audiences interact, there is an opportunity to merge these products to drive a better user experience and increase efficiency in their product delivery process at the same time.
User Research Tactics
Gray and her team rely heavily on qualitative data to come to strategic product decisions. Specifically, they collect and analyze feedback from people in the field who interact with customers who use their products. This is quite a valuable resource for the team because they gain a lot of firsthand knowledge that helps drive decision making. 
They also collect feedback from students who use their products by sending out surveys. All other feedback that comes in is through tightly managed ticketing systems and help desks, so no issue goes unnoticed. 
The feedback that Shorelight Education receives is all tracked in a way that can be reported on and easily integrated into their product roadmap process, as well as into the company's vision and planning. Gray added, "We don't do a lot of formalized interviewing, but we try and work with the information that we get from our team members and through the surveys to drive our products and how we should support our students and our agents." 
Gray and Suthar employ similar feedback collection processes in that they rely more on guerilla-style tactics that give you fresh insights into user behavior. Read more about Suthar's preferred user research methods.
Of course, qualitative feedback alone is never enough by itself. Gray is also looking into other tools and processes to measure the team's progress.
Tools to Make Data-Driven Decisions
Gray and her team use a few different tools to track usage patterns from a data perspective and make informed, data-driven decisions. On the Shorelight Live platform, they have a combination of custom pieces that they track using in-app analytics. They also use Google Analytics for some of their data needs, like tracking usage in their admissions and student portals. Gray also expressed that she'd like to dive deeper into using data-driven information to make decisions, especially around ways to improve their product offerings and to help the team figure out the best way to commit their time and resources.
Bringing Quantitative and Qualitative Data Together
Another goal Gray and Suthar share is to layer qualitative data onto quantitative data to paint a detailed picture of their users. Quantitative data reveals what actions users are taking and how they are engaging with your products, while qualitative research reveals why. Both sides of the story are necessary to fully understand your users.
With quantitative data, you can measure performance, help validate updates, and uncover new opportunities. While Shorelight Education has been mainly focused on collecting qualitative data through interviews and other methods, they also recognize the importance of collecting quantitative data, as they've been doing through custom analytics tracking tools as well as Google Analytics. Shorelight Education uses Google Analytics for all of their products, as they've found it's a great way for them to get started in the analytics space. As Suthar noted, the free Google Analytics Academy is a fantastic way for designers to familiarize themselves with the platforms. 
Gray's Parting Advice for Product Leaders
Three main things have held true and helped Alyssa succeed over the last 20 years she's been in product leadership: 
You can't have the right answers without a true commitment to listening and asking good questions.
It's important to understand the entirety of the design process so you know the tradeoffs you make if and when you skip steps. While taking shortcuts can save you valuable time and money at the beginning of the process, know that you are almost always just punting steps further down the line that you'll end up having to revisit later anyway. 
Finally, design and product management is a team sport. She says, "Collaboration and getting a group perspective is what drives good products. You can't do it all by yourself."
We're always on the lookout for the unsung heroes of product strategy. If you're interested in sharing some hard-earned lessons, set up a conversation with Alex Fedorov, our VP of Design by reaching out here.
Alyssa Gray is the CTO at Shorelight Education, where she's worked for the past five years. She has twenty years of experience in the EdTech product development space. Shorelight Education is a platform that helps international students attend top-ranked universities in the U.S. Their three external-facing products are Shorelight Live, a product that supports online students; an admissions portal, which supports Shorelight Education's  agents who in turn help students; and a student-facing portal that students use to manage their application process.
Looking to improve your product planning?
Effectively managing digital products requires long-term goals with proper planning and strategy. Want to help your team become more customer-centric? Let's chat.
Let's Chat.