Boston is an undisputed national leader in education. But this storied reputation is built on an incredibly complex system with heterogenous school governance structures. This means that for all but the most dedicated, well-off, or in-the-know families, the process of finding and choosing the right K-12 school in Boston is, for lack of a gentler term, broken.
Early application deadlines and arcane lottery systems make it difficult for families to be confident they're picking the right school for their children. Throw in additional complicating factors (e.g., being a recent immigrant, a non-native English speaker, looking for a strong special needs program, etc.), and the search for the right Boston school becomes that much more daunting for both children and their families.
And the pressure is on to get the match between school and student right as soon as possible: for example, children who are not reading proficiently by the end of third grade are 4x more likely to not graduate high school as proficient readers of the same age. Could we improve reading proficiency through better matchups between student needs and school offerings? It's very likely (for more information, the New York State Council on Children and Families has a great report on the importance of reading by the end of 3rd grade).
Perhaps the most frustrating aspect of all is the fact that much of the information needed to locate the right school is already out there. It's online, posted on school announcement boards, and scattered across government and non-profit organizations, waiting to be found, aggregated, organized, shared. And that's how that information remained for too long: just waiting to be found.
But why should that be the case? After all, we have tools like Yelp, which aggregate data about something as trivial as pizza delivery services into a user-friendly and enjoyable experience. So why shouldn't our school system be just as organized? Why shouldn't parents have the same level of access to information about their schools? And why hasn't anyone developed a tool that gives them the power to quickly and conveniently access this information whenever they need it? These are the questions that led to the creation of the Boston School Finder.
What is Boston School Finder?
Boston School Finder is a school search tool that "gathers publicly available data into a single location, making key data more easily available to families and their partners." This makes it the most advanced step towards reducing this information asymmetry in the Boston school system to date.
Through close collaboration with the city of Boston, Boston Public Schools, the Boston Charter Alliance, the Roman Catholic Archdiocese of Boston, community organizations from around the city, and a team of diverse families, Boston School Finder articulated the problem they were facing and developed a hypothesis for their solution. In fact, three surveys, 100+ focus groups, and one-on-one interviews with families were conducted to ensure the best solution was produced.
This led to the initial launch of BostonSchoolFinder.org in 2017, which was a significant step in the right direction, but still faced critical challenges before it could truly be considered successful. Boston School Finder had, at that point, brought the relevant information under one roof, but the user experience and design still caused usability issues for many families. As a result, the design was actually limiting the ability of families to realize the value of the website.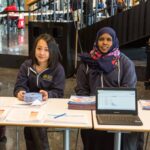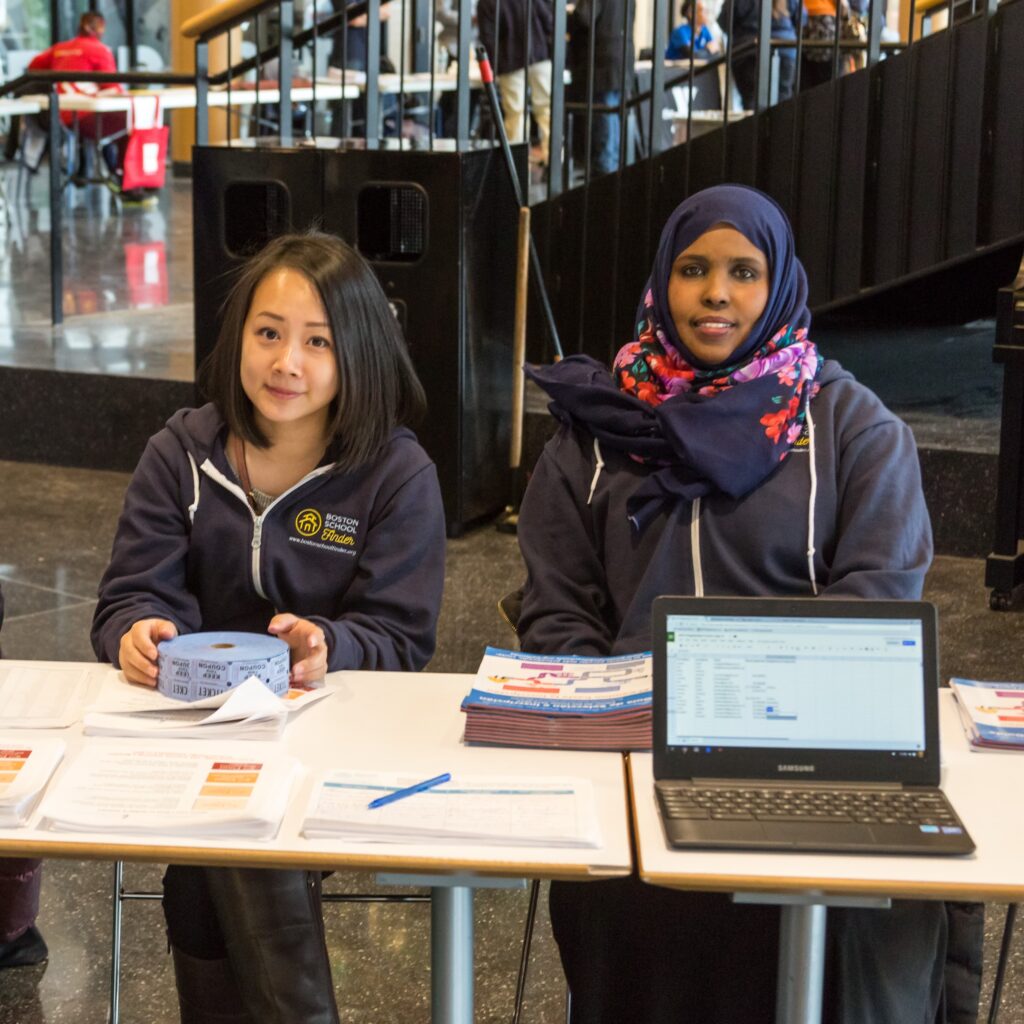 Two women on the Boston School Finder Team sitting at an event registration desk.
Another key issue Boston School Finder needed to overcome was discoverability. Their biggest obstacle? SEO, or search engine optimization. The website was coded in a language that search engine crawlers could not read, meaning the rich content and data that was so meticulously gathered and sorted was not being returned in Google search results.
If families didn't know Boston School Finder existed, how could it answer their questions?
It was with these goals and technical problems that the team at Boston School Finder approached the digital strategy team at ADK Group.
Designing the New Boston School Finder
The Design Team at ADK Group led the first phase of the rebuild process. A Senior UX Designer at ADK Group led the charge using battle-tested design methodologies, including the following:
Detailed user personas
User journey maps
Design moodboards to explore brand treatments
Live user testing, & more.
The team focused on making the end-to-end experience as valuable, intuitive, and enjoyable as possible for a wide range of needs. During the discovery phase, the team also uncovered some key strategic functionalities that played to the Boston School Finder team's strengths, while also addressing some of the previously unexplored needs of our core audience.
With functional specifications and designs in hand, the team transitioned to the next phase: development.
Building a Rich Digital Experience on Drupal 8
The requirements demanded a CMS (content management system) that could deliver a smooth experience while managing troves of data; after all, Boston School Finder contains tons of useful data points on nearly 200 Boston schools. And, thanks to a commitment to making this information as accessible as possible, all of this information is multiplied across eight different languages.
To meet current requirements and provide flexibility for future expansion, the ADK Development Team chose to build the website on Drupal 8. As a CMS, Drupal 8 is widely regarded as more than capable of handling large databases with an extremely customizable backend experience. This last feature was important for making the website easy to manage for the team over at Boston School Finder, as well.
Drupal 8 was also instrumental in supporting one of the most exciting features of the new and improved Boston School Finder: a guided search experience that helps families quickly and effectively narrow down their choices to the 1-3 best available options.
But the team did not want to stop at just helping Boston families find the right schools. They wanted to also improve the experience of enrolling in them.
To this end, the team developed a comprehensive FAQ section populated with important questions that the families we worked with said were near-impossible to find answers for. These questions-and-answers were then conveniently categorized by topics (predefined in a card-sorting session) for easier browsing.
We also included robust blog and resources templates to house Boston School Finder's growing library of content. This also enabled our team to double down on an organic content strategy so the new site can reach more and more families with important news, updates, and information.
Planning for future growth
One of the things we loved most about working with the team at Boston School Finder is their ambition and passion. To help them realize their lofty vision, we're now working with them to build advanced analytics that can uncover rich data and metainformation on how families are interacting with the information that Boston School Finder provides.
Being able to quantify Boston School Finder's impact and create exciting improvements to the product experience based on quantitative and qualitative insights means there's almost no limit to their potential. And those are exactly the results we love to deliver.
Driving Immediate Impact
Just one day after the relaunch and prior to any promotion of the new website, Boston School Finder tripled its average traffic, exemplifying just how much work a solid design and thoughtful SEO work can do. Imagine how many families were able to find their dream school with the help of their services just on their launch day!
Despite all the information this post contained, it only scratched the surface of the new website's capabilities. However, you can get a first-hand look at all the things the new Boston School Finder is capable of by visiting the website today.
You can also help the Boston School Finder match more families with Boston schools by sharing their website with your friends and family:
We promise the experience will be an easy "A".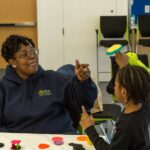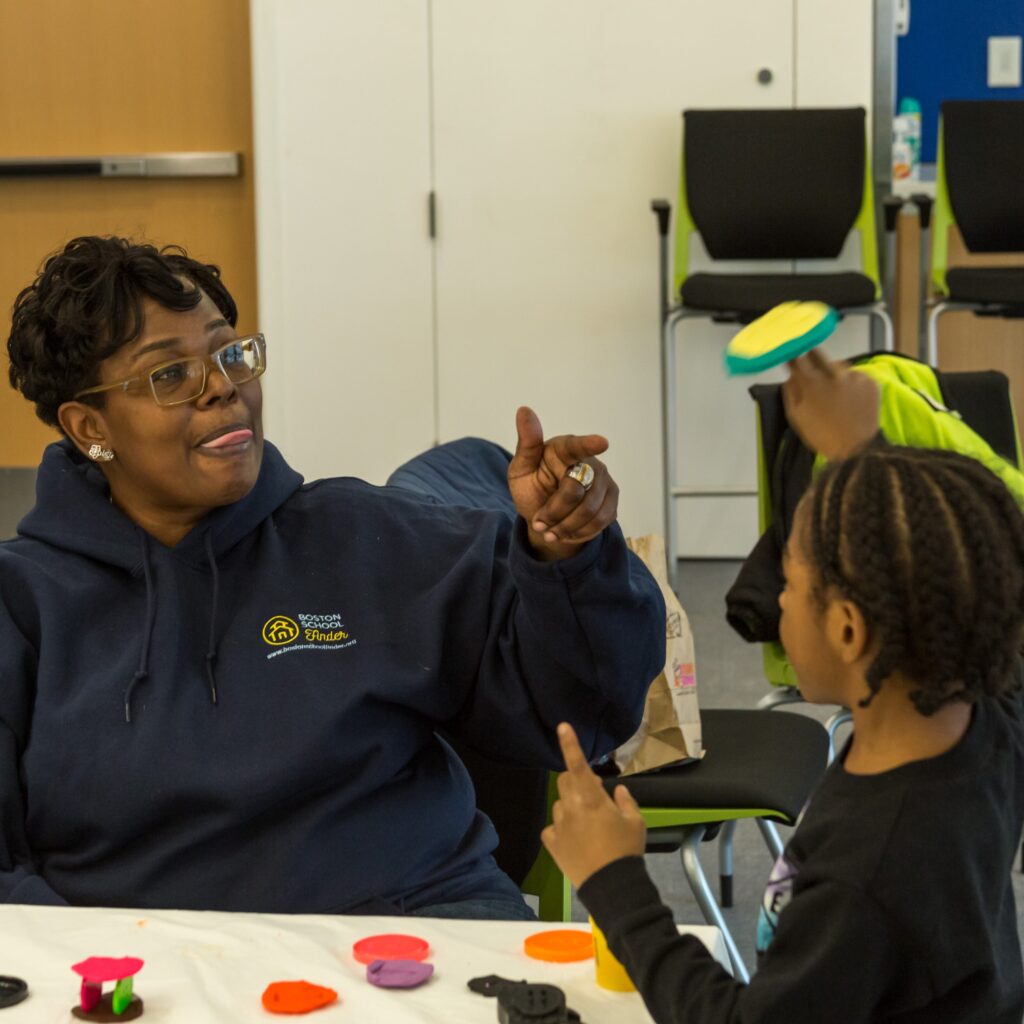 If you have any immediate questions for the Boston School Finder team, please reach out to them via email at contact@bostonschoolfinder.org.
Our Motivation & Further Reading
Editor's note: While working on the project and this post, we came across some fascinating statistics that drove home the potential scope that a solution like Boston School Finder has. This section is less directly related to the project, but provides valuable and interesting context for why Boston School Finder is so inspiring.
Partnering with Boston School Finder
Boston School Finder is exciting for hundreds of reasons. One of which is the potential leverage their product can have. By improving chances that children are matched with schools best suited for them, Boston School Finder is contributing to a better chance at a better future for them (and the economy, too.).
One of the nerdier reasons we're excited about Boston School Finder is because of the type of problem they're solving is one of information asymmetry. Wherever there's information asymmetry, technology can be used to democratize access to advantageous information. In the case of Boston School Finder, this meant helping more people have access to critical dates and requirements that can dictate whether or not their child gets into a school that will set them up for success.
Far-Reaching Potential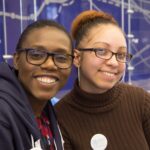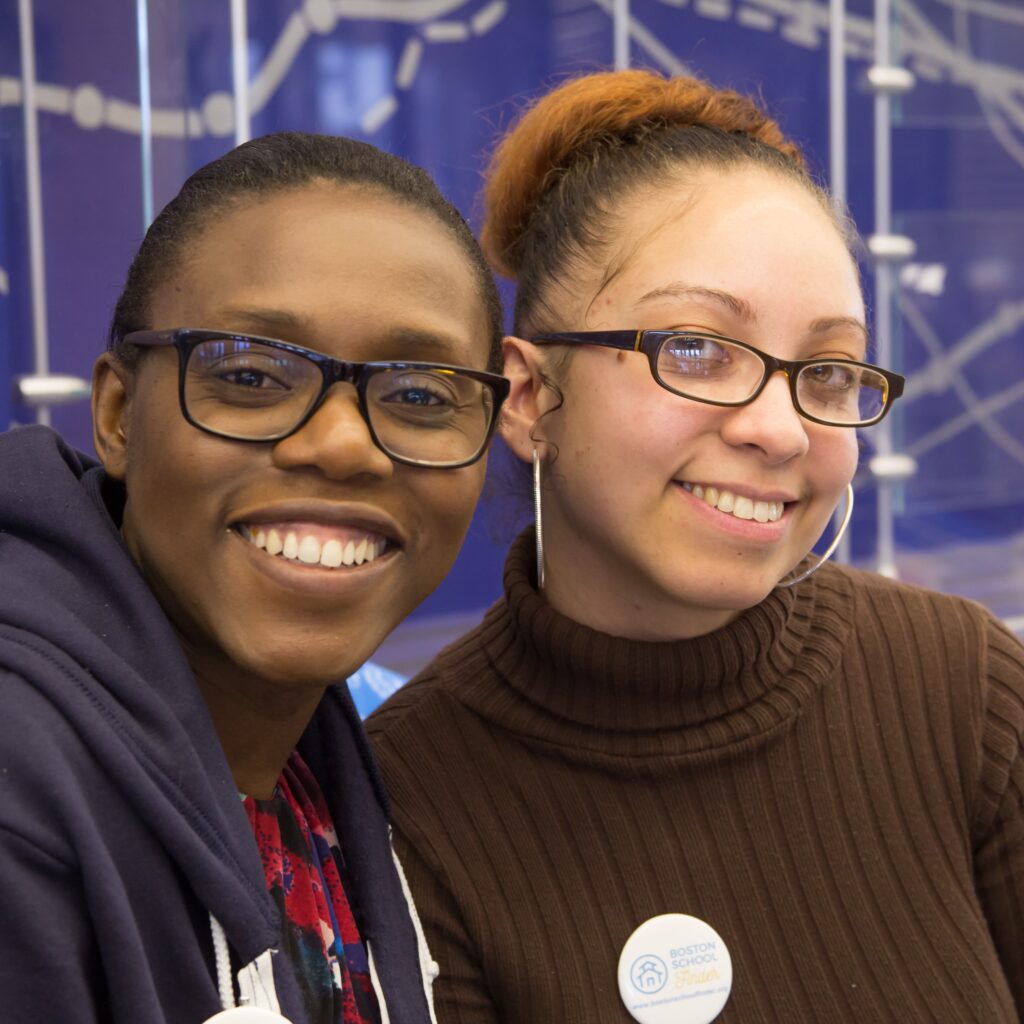 As mentioned earlier, we found research showing that a students performance in 3rd grade can predict their success nearly a decade into the future. Taking a look at the broad picture, this highlighted the potential long-term benefits of helping Boston families find the right school. Specifically, the correlation between early grade school performance and high school graduation rates jumped out as a huge potential positive externality of Boston School Finder's work.
Finding the right school for a child can often mean the difference between a bright future after graduation and a difficult, uphill battle through life that results from dropping out. The impact of a student failing to graduate high school radiates far beyond their own lives. While this may lead to extreme personal hardship (according to the Bureau of Labor Statistics, people without high school diplomas earned $0.44 for every $1.00 people with a Bachelor's degree earned), it also has a ripple effect that echoes throughout our economy.
High school dropouts are significantly more likely to face incarceration and/or be unemployed than students who graduate high school or beyond. This leads to potentially "billions of dollars annually in lost revenue for the U.S. economy".
Whether you're altruistic or a little more concerned about your personal wellbeing, it's clear that high school graduation rates are an important issue to tackle.
So, how could we work to increase high school graduation rates? This is a massively complex issue, affected by myriad factors. Where does one begin?
Whenever we're faced with hairy coding problems, we begin by breaking them down. Using that same strategy, the above question breaks down into: what factors decrease high school graduation rates?
This reveals a set of more addressable, albeit still intimidating, defined by Robert Balfanz:
Failing math or English classes
Low attendance rates
Poor behavior
Even with this radical oversimplification, the list of issues is still intimidating.
And while we at ADK Group are an impressive (if we do say so ourselves) group of developers, designers, marketers, and strategists (with a philanthropic streak to boot), we do not pretend to be experts in public policy issues, education, or anything similar. That said, it stands to reason that when a child finds a school that fits their individual needs, it improves their school experience which positively correlates to better attendance rates and grades. Any time we can use our technology expertise to enable solutions that have outsized positive impacts, we  get excited.
Which is why when Boston School Finder approached us with their mission to make it radically easier for parents to find the best-fit school for their children, we jumped at the chance to join them.