Last week, I received an email that immediately made me giggle. In was an email from a contact at Inc. Magazine. The writer had seen my blog post about company culture, and he was intrigued. "A 44-step onboarding process?" he said, "I need to know more." The next day we had a call, where I shared the experience of shaping our current employee onboarding process. As a recently onboarded team member, C. Todd gave his first-hand experience of the 44-steps.  BOOM! Within 24 hours, we had graced the front page of Inc.com as the "Design Firm" with "a 44-Step Onboarding Checklist."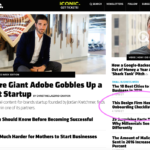 On my very first day, our CEO and COO were very clear that one of my first responsibilities was to tighten up the onboarding experience for new hires. As a new hire myself, I was in the perfect shoes to experience every minute of being a newbie – and then to fix it. As the Inc. article outlines, I took feverish notes on the missing pieces and pain points. Ultimately, the 44-step checklist was born.
I wanted to provide deeper insight into the thought process behind the onboarding experience we've shaped here at ADK, and why we've made such a fuss about it (and continue to daily). Let's be honest, regardless of your organization's age or size, there is an overwhelming amount of information that needs to be gathered and shared when a new hire is made.
Some of that information is easy to translate (like the completion of a W4 or I9 form), and some are virtually impossible (like the minuscule cultural nuances that drive culture). How do you convey our unwritten mores surrounding respecting one another's time, owning your work, being conscientious, and keeping it simple? It can feel impossible.  Well, I'm here to suggest that successful companies use the onboarding experience itself as a tool to set the groundwork for how they operate.
Successful companies use the onboarding experience itself as a tool to set the groundwork for how they operate.
As I mentioned in my previous blog post, if your newest team member arrives to work their first day without a clue of where to go, who to talk to, or what he is working on, you are not-so-silently conveying that the haphazard nature of his onboarding reflects how you operate as an organization. We use onboarding as an opportunity for our new hires to experience exactly what it's like to work with ADK as a client. Every touchpoint provides an opportunity to express who we are.
We use onboarding as an opportunity for our new hires to experience exactly what it's like to work with ADK as a client.
With that in mind, I'll run through our onboarding process to highlight how we tackled this behemoth task of bringing someone into the fold.
Pre-First Day (minimum of 2 weeks prior to start date)
I beg you, please do not ask a new hire to spend their first four hours on the job completing paperwork; there is just no need for that. The weeks leading up to the start date provide a wonderful opportunity to get all of the paperwork out of the way. This includes the employment agreement, W4, I9, and payroll and benefits enrollment. At ADK, we also purchase new computers and equipment well in advance, ensuring that a new hire arrives at a desk already set up with her new equipment fully loaded with all the applications and software she needs to do her job.
These early weeks are also an opportunity to provide new hires with a sneak peek into our people, values, culture, and character. We set up their company emails and add them to email lists, open their Slack accounts, and provide access to the Team Portal (our digital version of an employee handbook). These steps allow them to immediately feel like a part of the team as they jump into Slack channels, review email topics, read team member bios, and dive into company core values and principles on the Team Portal. Our Team Portal also includes 8-week onboarding plans, so new hires know exactly what to expect in their first 8 weeks with us. This type of intentional inclusion provides a truly warm welcome before they ever set foot in our office.
First Day
A new hire's first day is a time for bonding. This means bonding both with our team and our physical space.  Our onboarding checklist has really just one item that is required for day one – a tour of our space and building. This is a time for taking it all in. A new hire has spent weeks in anticipation learning about the team and the company, and this is where imagination meets reality; let it happen. For us, day one marks the commencement of the aforementioned 8-week onboarding program (surely a future blog post topic – stay tuned). Whether week one or week eight of onboarding, one theme sits at the foundation of our new-hire welcome experience – our people. Smart companies know that direct interaction with existing team members makes all the difference.
Post First Day
This section of onboarding is the most extensive. This is where we dot our i's and cross our t's. ADK has over 25 applications/services we work with on a daily basis. These final 22 onboarding steps include items like providing gym access, expanding our org chart, uploading a bio and headshot to numerous places, ordering business cards, and opening accounts for business tools like Harvest and Basecamp.
In closing, let me be clear about one thing: even though it was released on mainstream media, the 44-step checklist published on Inc.com is by no means a finished product. In fact, I honestly just thought of another step while typing this. Now it's 45 steps, and that's okay. At its very core, ADK is a design thinking organization. This means we are relentlessly digging into experiences, listening, adapting, iterating, and testing to find the best solution… and then iterating again. This inquisitive lens allowed us to craft an onboarding process that warmly welcomes new hires and sets the stage for how we operate, but onboarding is just the beginning.  We approach all challenges with this mindset.  We understand that experience drives everything.  For our employees, our clients, our clients' customers, every touchpoint is an opportunity to make a statement.  So, what's your statement? Is it something like, "Hi! Oh wow, you're here, um" or more like,  "Welcome! We are so thrilled to have you. Let's do this."