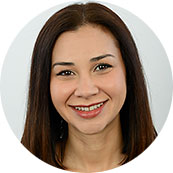 Product Hero is our bi-weekly series to highlight outstanding members of the product management community. These industry leaders share tips on processes, team building, how to be a better product manager, and who they are outside of their careers. This week our product hero is Emily Tyson, Vice President of Product at naviHealth.
---
C. Todd: I'm lucky to be joined by Emily Tyson of naviHealth. Welcome Emily. Could you start by telling us a bit about your background and your journey to become a product leader?
Emily: My background is quite nontraditional. I started off my career as a banker doing a lot of healthcare banking transactions. One day I realized that I was more passionate about the operating companies I was helping to provide financing for and opted for a career change.
I joined athenahealth as my first healthcare operating company, where I started off on the business development side doing M&A transactions. As part of integrating those acquisitions, I moved into a variety of different roles and responsibilities to support building those aspects of the business. Throughout that time I always played a very active role in product strategy, helping drive the vision and the direction of the related product offerings, and worked really closely with the product management team.
That's very similar to the role I had upon joining Curaspan, which was acquired by naviHealth about nine months ago. With the acquisition, we decided to build a broader, more strategic product team and bring a lot of these capabilities together. The product strategy, stakeholder engagement, commercial strategy, product execution focus are all under one umbrella today; we work hand-in-hand with the business and engineering teams.
C. Todd: How big is your product team?
Emily: We are 21 people today. We'll be growing to more than 30 in the next six months. We're growing across levels, positions, and locations primarily in our Newton office and in Brentwood, which is just outside of Nashville.
C. Todd: Can you tell me more about the makeup of your team? How do you all communicate and work together to build great products?
Emily: With naviHealth's acquisitions of Curaspan and RightCare (a smaller acquisition completed just prior to the Curaspan transaction), we've integrated into one product team to support the combined company and expanded the scope of responsibilities of the team to cover all of our commercialized (directly and indirectly) technology solutions.
Across three locations, there are four primary functions of the product team. There's product strategy, product management, UX design, and program management. We're working together on multiple platforms, timing, and release cycles. We're building a product team that is more capable and responsible for driving and owning product P&Ls. The product managers own the strategy for where their products are headed and are contributing to the broader business strategy in addition to working with engineering teams to execute the product roadmap. We spend a lot of time coordinating across functions to ensure we are working together to achieve our vision.
C. Todd: What is your approach to product roadmapping?
Emily: There are a few different aspects that come to mind when we talk about the product roadmaps. One is defining what a roadmap is and what it isn't. It is important the organization understands the roadmap's purpose and how it serves our organization. The roadmap contains ideas. It's not a project plan. Clarifying the detail, level of accuracy, and confidence as well as forecasting how far out we're planning for is also part of my responsibilities.
The desire for long term planning is there. The reality of roadmaps are that they need to be flexible to deliver quickly and respond to market needs. You don't want a 12 month or two year roadmap. Having a highly confident view of the next quarter, as well as a vision of where you are headed long-term, is really important. My team will typically draft where we want to go in the next 12 months and map out priorities while having a strong focus on what we're delivering in the next three months. We focus on allocating the right resources and capacity to deliver in those three months and how those outcomes will affect the longer-term plan.
The roadmap contains ideas. It's not a project plan.
Emily Tyson
Vice President of Product at naviHealth
C. Todd: How do you come to agreement on where to focus?
Emily: We have a governance structure that helps us balance the insight and feedback and updates with flexibility. It's not a heavy-handed process. There's a portfolio review group that works across the business that is evaluating whether brand new or significant initiatives are going to cut across multiple solutions or multiple products. That team specifically will weigh in to make sure these initiatives align with the overall business priorities. We also look at high-level resource allocation to ensure we are comfortable with where we are investing and ensure alignment with business objectives and goals.
Beyond that, every product manager has their own cross-functional stakeholder advisory group that they get input from and work with to brainstorm, prioritize, and update all development plans for their product. We are trying to empower those teams to drive the product strategy and prioritization of those initiatives on a day-to-day basis.
C. Todd: What do you think is missing in the product management and product design conversation today? What's not being talked about enough?
Emily: As a whole, defining success and how to measure outcomes upfront. Iterating based on feedback and creating insights on how to move forward isn't always defined ahead of time. We should all anticipate a variety of outcomes and take time to interpret results, especially if it's feedback you were not expecting. We build MVPs with this intention in mind, but I think we often push forward beyond MVP without true iteration (even on the MVP itself).
Naturally, a lot of people see success metrics and think the results are great, but it's partially because they didn't define what results should be connected back to a hypothesis. There should be more conversation and time allowed to slow down and really think through how to measure success.
C. Todd: Right. A lot of teams move right into building something, scrambling for the next release but not taking the time to learn.
Emily: Exactly. There is so much focus on execution, but we don't allocate enough time for brainstorming or iterating.
The concept of wanting to get something out to the market and start learning as soon as possible holds true. I think it's incredibly important that you don't lose time on what you're going to get to market. The idea of your starting point ultimately puts the stake in the ground of how your product is going to grow. Lots of people rush to get to MVP but it takes away some creativity and out of the box thinking about what the right solution could be.
It's a balancing act amongst speed, the need for validation, and the flexibility to truly experiment. I think there's not a lot of experimentation because we're pushing so hard, always against timelines.
Lots of people rush to get to MVP but it takes away some creativity and out of the box thinking about what the right solution could be.
Emily Tyson
Vice President of Product at naviHealth.
C. Todd: How does that play out at naviHealth? How are you able to balance experimentation versus execution?
Emily: One of the things I'm working on is finding more bandwidth within the team. Freeing up some of the product owners' time to drive this strategy is key. Ultimately it's a question of how we prioritize this aspect of our jobs against the day-to-day execution and delivery.
Currently, we do regular off-sites and training sessions to give the team time to brainstorm together on initiatives that are outside of their day-to-day. It's a step in the right direction.
C. Todd: Do you do any bigger, company-wide initiatives to get input from people across departments?
Emily: Aside from how we engage other departments in our SDLC on an ongoing basis, we do typically one to two breakaway sprints a year and a company-wide hackathon. The breakaway sprints are fully dedicated to the product and engineering teams; time where they can work on whatever they want. We often see employees use this time to bring to life ideas they've had in the parking lot.
For the hackathon, it's cross functional with every function of the company participating. The teams connect new opportunities to the problems they solve. It's not necessarily limited to technology solutions either. The teams have time to explore the ideas they have and think about new solutions in structured ways.
Historically, we've done bi-annual breakaway sprints for product and engineering. Then, once a year we do the hackathon for the whole company.
C. Todd: What are some examples of products or solutions that have come from the breakaway sprints or hackathons?
Emily: One is a simple solution, but something that had been sitting as an idea in a backlog for a long time. We introduced a CMS star rating as part of a post-acute provider profile. It supports a number of reimbursement requirements and provides more insight into the quality aspects of a provider profile. It was an enhancement to a core product and served as the initial foundation for building out the inclusion of additional quality metrics for partner evaluation.
We've also seen a lot of process improvements come from this as well. They range from how to streamline updates to a PowerPoint slide that needs constant updates, to streamlining how teams operate. It's amazing to see the creative solutions people come up with.
C. Todd: From these breakaway sprints or hackathons, are there more incremental improvements or bigger breakthrough ideas?
Emily: It's a combination. We typically see more incremental improvements during breakaway sprints. Teams opt to use that time to run really fast and accomplish something they've been wishing to do.
With hackathons, since we're involving the larger company, there are bigger ideas that come out of it. To set the tone for the hackathon, we pose three to five critically important, strategic questions that the company is considering. We ask those teams to submit ideas on how to best support those objectives and answer those questions. We try to provide high level guidance without limiting the thinking or potential solutions proposed.
C. Todd: Very cool! Let's go back to talking about success metrics. How do you define product success at naviHealth?
Emily: To be honest, this is an area we are working on at the moment. There's a standard view of a P&L, which I think is informative and helpful if you think about managing products. It certainly does not measure everything. We spend a lot of time thinking about what the strategic value of the product is and how it indirectly leads to some other success metrics. Defining the role of the product is very important when coming up with metrics.
We measure how our products are being used – understanding behavior when it comes to a new enhancement and measuring that against our expectations is a big focus.
Defining the role of the product is very important when coming up with metrics.
Emily Tyson
Vice President of Product at naviHealth.
C. Todd: When you talk about that behavior, what are some changes you're looking at?
Emily: At a high level, our technology applications enable clinical workflows around care transitions. We are constantly looking at how to enable a workflow that's going to drive more effective, efficient decision-making? It's about optimizing all aspects of how our users interact with the applications to improve their performance and associated clinical and financial outcomes.
C. Todd: Looking back, is there a mistake you've made during your product career that you learned from?
Emily: Some of my early mistakes were a result of making assumptions that I didn't recognize I was making, so I'm much more focused on explicitly acknowledging key assumptions that drive decisions.
You must be really cognizant of where your own opinion is informing something, versus truly listening to the feedback from users (and others) that you're getting.
C. Todd: What's some advice you would give to aspiring or new product managers out there?
Emily: Build your relationship with the team. When I think of 'team,' I think beyond just the product and engineering team members. Think about the broader team. Know whom your key stakeholders, clients, and users are. Understand them. Understand the way you communicate and interact with each of them, because it's different. How do you interact with a person to actually get feedback that's useful for you, how do you think about the questions to ask them and how to engage them?
That relationship aspect -to be able to actually get the feedback you need, and understand who your users and buyers really are and what problems you can solve for them — I think it's the most critical thing you can do. And it seems obvious and straightforward, but you must ask people questions all the time. How you ask a question really matters and knowing that person and getting a feel for their personality matters, in terms of the impact and the answer that you get.
C. Todd: That's a great piece of advice. Well, Emily thank you for spending some time with me today to share some of your experience around product management and product. It's been very insightful for me. I'm sure it will be very beneficial for our readers. Thank you for being a product hero.