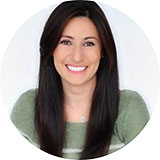 Product Hero is our bi-weekly series to highlight outstanding members of the product management community. These industry leaders share tips on processes, team building, how to be a better product manager, and who they are outside of their careers. This week our product hero is Vanessa Ferranto, Senior Product Manager at Zipcar.
---
Product management and music seemingly have nothing in common. After taking a closer look at Vanessa Ferranto's career in the product world, that statement couldn't be further from the truth. She applies her music education every day as Senior Product Manager at Zipcar, the world's leading car sharing company. Vanessa understands that collaboration with various stakeholders is much like a performance where timing, listening, and communication are key to creating something powerful. Believing that the scope of product goes beyond technology to the offline experiences people have, Vanessa has developed deep relationships with customers. She is a respected mentor and coach at General Assembly, dedicated to giving back to the product management profession by teaching the next wave of product leaders. Vanessa's curiosity to keep learning, along with her innate ability and willingness to help customers, colleagues, and students of the field makes her a Product Hero.
I had the pleasure of sitting down with Vanessa to talk about product management at Zipcar, her journey in the field and teaching experience. Below is a revised and condensed transcript of our interview.
---
C. Todd: Today I am with Vanessa Ferranto, current Senior Product Manager at Zipcar. Vanessa, thanks for spending some time with me today.
Vanessa: Thank you. It's good to be here.
C. Todd: Why don't you tell us just a little bit about your background and how you got into product management?
Vanessa: My first role as a product manager was at a financial services startup. Since then I have had the opportunity to work in a variety of industries including digital media, mobile payments, healthcare and now transportation in my current role at Zipcar.
Prior to becoming a product manager, I had studied architecture for a couple years and graduated with a degree in music, specifically vocal performance. After graduation, I had a choice to make, as many recent grads do: continue pursuing music or find a new challenge.
First Coverage had a Generalist role available and what really interested me about it was not only that it was in the technology space, but it provided the opportunity to really understand the different types of roles in a technology company. It was a small startup, where you had to wear many different hats, and I jumped right in.
I had a natural gravitation toward the product management role after understanding how design and development worked together to produce a product people can love and rely on in their day-to-day.
The background in architecture gave me the mindset to continually think about form, function and the ways in which someone will experience a space. Music prepared me in a lot of ways for product management through character research, period analysis, and team collaboration. You have to be very aware of your music partners – listen carefully to one another, and know how each person is contributing to the performance.
Between the two disciplines, there's a natural correlation with user experience, product and technology.
C. Todd: How did your music education and music experience help you be a better product manager?
Vanessa: I studied classical voice, and as such, I spent a lot of time learning about the different time periods, the effect of the historical events on the styles of music and the portrayal of characters in various vocal works. As part of singing arias, art songs, and musical theater, you're trying to understand who the character is that you're portraying and their interaction with other characters. You also gain a sense of empathy through researching the composer and lyricist that transfers into how you communicate the character of your song.
I think this understanding is similar to how product managers approach customers, their products, and the value of research.
Music prepared me in a lot of ways for product management through character research, period analysis, and team collaboration.
Vanessa Ferranto
Senior Product Manager at Zipcar
C. Todd: You also teach product management at General Assembly, is that correct?
Vanessa: I teach Product Management Bootcamps and have done the Intro to Product Management. Additionally, I'm involved in refining the next iterations of the product management curriculum for the 10-week course.
I really enjoy the mentorship aspect of teaching product management. It also provides me with the opportunity to reinforce methodologies and ensure that I'm continually improving my skill set.
C. Todd: From your perspective teaching product management, what's the most important thing you want your students to understand when they leave a workshop?
Vanessa: What students seem to be challenged with the most is the difference between a hypothesis and a problem. Specifically, figuring out exactly how you define and approach the hypothesis, what it means to get validated learning, and how to take the next step.
It's really important to understand that you have to make decisions with limited information. You only know what you know. Make a hypothesis based on the information you have and build your experiment so that you can validate (or invalidate) that hypothesis. That's the best way to continue iterative progress towards learning more about what your customers need.
C. Todd: What have you learned from your students teaching product management?
Vanessa: Communication is an important and challenging component of what we do as product managers.
Teaching has given me the opportunity to really think about communication in general. Communicating with your audience, your customers, and your stakeholders is one thing, but communicating to people who really don't understand product management as a discipline can be tricky.
It takes a different level of communication technique to break things down in a way someone with little or no product management knowledge can understand and then be able to apply those learnings.
C. Todd: Let's focus a little bit more on Zipcar. What are you currently focused on? What are the things that you typically do in your day-to-day at Zipcar?
Vanessa: I focus on a few different areas. Mainly, I'm working on an area of a product that's around registration and account management. I also drive process improvement and general mentorship of Product and Agile practices.
In regards to the specific product I'm working on, I focus on member education and experience. My product challenge is around making sure potential customers are informed in the right way.  Simply put – make the registration process as simple as possible to get you into a car today.
C. Todd: How often do conversations happen between all of your different teams – engineering, product development, Agile folks? How does that translate to creation of product roadmaps within Zipcar?
Vanessa: We have put in effort to make sure we talk as much as possible throughout the product-development teams. Given the size of our groups, we have been moving more towards the scaled Agile approach, which is an iterative process in and of itself.  What's really important is how to we communicate our business goals to the teams in order to bring context to the day-to-day.
On the product side, we have organized our initiatives in a way that drives greater visibility into "What's in flight, what's approaching market release, what's currently in our backlog, what do we need to prioritize?"
This enables a dynamic view into what's being defined and delivered. I think that's an important aspect of what we're doing as part of our cross-functional teams.
C. Todd: What are the KPIs or OKRs that you focus on at Zipcar?
Vanessa: We want to see that we're able to move things forward more efficiently and to see improved development cycles.
I think that there's an aspect of just making sure we're continually delivering the right value and that the teams understand the "why." That has a similar translation into how we measure success with our customers. Are they happy and do they find value in our products?
We have relationships beyond just having customers. It's about understanding that the product isn't just software or hardware. The technology is a mechanism for you to get into the car and get to your end destination. The product is the entire experience and the community. It's about making sure we can fulfill a need that customers will enjoy.  We do this in the way we deliver that experience.
C. Todd: What types of data do you look at to help drive conversations around product improvements?
Vanessa: Qualitative and quantitative. While I definitely find value in the quantitative, I like to focus on the qualitative. When you can point directly to what the customer issues are, get to the heart of why people do what they do, what they care about, and are able to use their words, that's what drives the priorities forward. Quoting customer conversations and referencing interactions is where I put my emphasis.
I think the quantitative data is still important. While those are important, they tend to point to areas that warrant further investigation. You need the qualitative to get to the heart of it.
It's about understanding that the product isn't just software or hardware. The product is the entire experience and the community.
Vanessa Ferranto
Senior Product Manager at Zipcar
C. Todd: What do you feel is missing in the product management conversation right now?
Vanessa: Product managers need a deeper level of curiosity; really wanting to understand more about the users. Leadership is also another quality that product managers struggle with – product managers need to have a strong voice in the room.
The way to do that is to "arm yourself with data" – talk to customers and do the market research. I see that as being a key area of improvement for product managers that can strengthen their influence in their roles.
Product managers need to have a strong voice in the room.
Vanessa Ferranto
Senior Product Manager at Zipcar
C. Todd: What are some pieces of advice you could offer to people trying to break into the product management field?
Vanessa: There are two pieces of advice I give to new product managers.
For those looking to break into product management, look at your current role and experience. Find what you have done that applies to the role of a product manager and leverage that experience as you look for your next opportunity. Go to events, network with people, and look at job boards for examples of product manager descriptions.
For people who actually fall into product management at their current company and are just trying to figure out what to do next: I think it's about being curious, not just about your products and your customers, but curiosity about the discipline itself.
Mentorship is a great opportunity to bounce your thoughts off somebody with more experience. My greatest piece of advice is continually learn – educate yourself and understand what skills you have, and where you need to improve.
C. Todd: Fantastic, great advice. Vanessa, thank you so much for joining us for Product Hero.
Interview notes:
On the crossover of music and product management: listen carefully to your colleagues and customers and know what how each party contributes to the product.
Most important information Vanessa wants her students to know: how to tell the difference between a problem and a hypothesis, how to test a hypothesis, and how to take action on the validation or invalidation of that hypothesis.
Advice for other product managers: continuously learn, be curious, and get more involved with the product management discipline.
Connect with Vanessa on Twitter.