Titles II and III of the ADA
While it wasn't perfect, the ADA (meaning the Americans with Disabilities Act) made public spaces significantly more accessible to people with disabilities. Wheelchair ramps and handicapped parking spaces are some of the more noticeable ways the ADA accommodates people with disabilities; however, in the digital realm, website ADA compliance is less clear-cut.

When it comes to the digital application of the ADA, the differences don't end with tangible features versus digital. The biggest difference is that while ADA requirements for public places are quite clear, there are actually no specific guidelines written into the Americans with Disabilities Act that refer to websites, despite websites also being classified as public places. In fact, apps, websites, or other digital content are not specifically mentioned in the ADA at all.
A Brief History of ADA Compliance
The Americans with Disabilities Act was initially passed in 1990, a time when mainstream use of the internet was still years away.
Through the ADA Amendments Act of 2008, the law (the standards of which are set by the Department of Justice) was modified. Included in those modifications was the specification (called Title III) that ADA requirements apply to all "places of public accommodation", a term defined as a private entity whose operations affect commerce, among other delineations.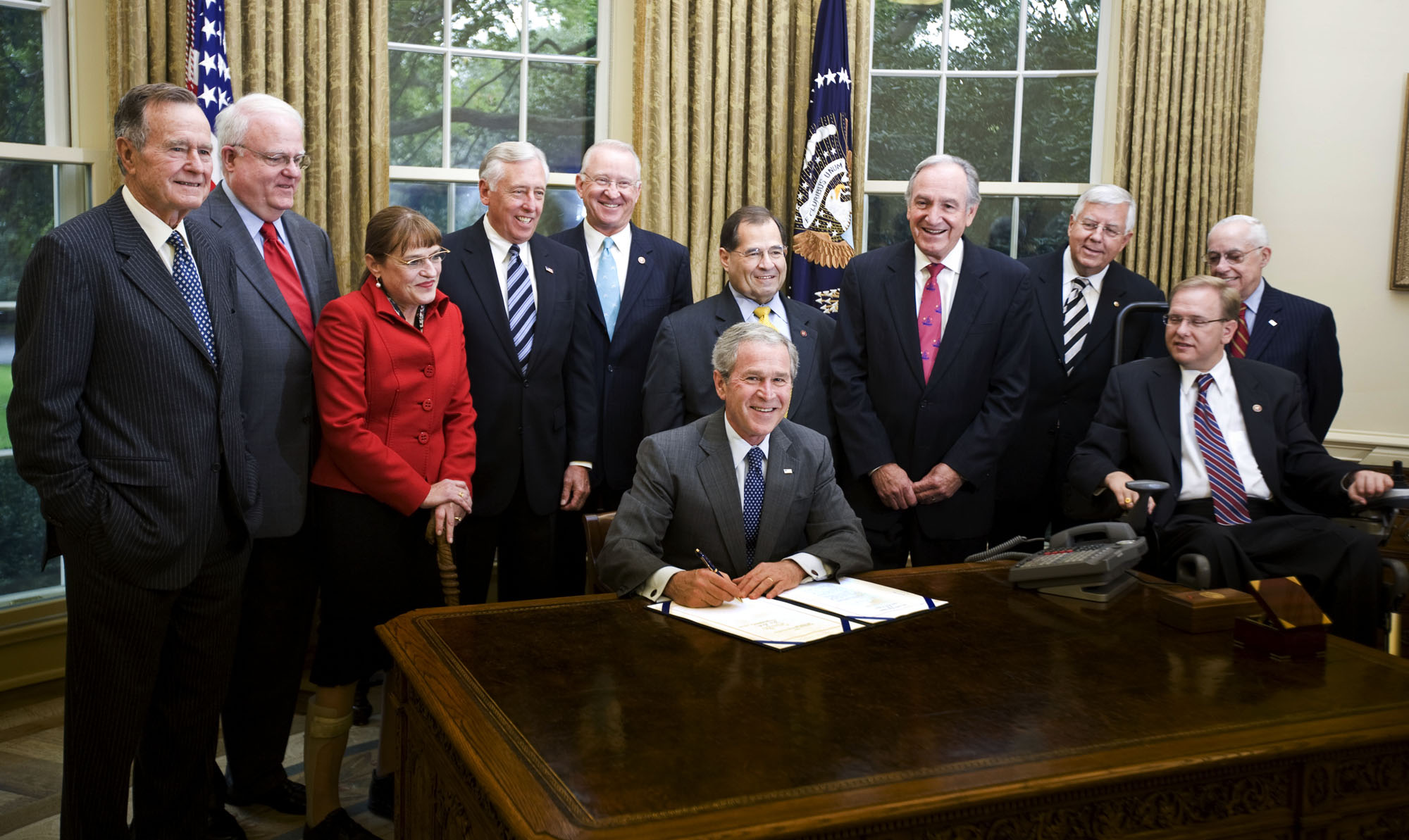 President George W. Bush signs the Americans with Disabilities Amendments Act Thursday, Sept. 25, 2008, in the Oval Office of the White House. Joining him for the signing of the law that amends the ADA Act of 1990 to redefine the term disability, are, from left: Former President George H.W. Bush, Rep. James Sensenbrenner of Wisconsin and his spouse, Cheryl Sensenbrenner; Rep. Steny Hoyer of Maryland; Rep. Buck McKeon of California; Rep. Jerry Nadler of New York; Senator Tom Harkin (D-Iowa); Senator Mike Enzi (R-Wyo.); Rep. Jim Langevin of Rhode Island, and U.S. Attorney General Michael Mukasey. White House photo by Joyce N. Boghosian
Given that websites are tied into commerce, there is an inherent need to extend ADA compliance requirements to digital content. The challenge for businesses is understanding what those compliance requirements mean for their website.
And because website ADA compliance took such a long time to get addressed in any significant way, the lack of accommodations on websites has led to serious repercussions for many businesses in recent years.
Website Accessibility as Defined by Title II of the ADA
The definition of website accessibility is a little murky. The ADA defines website accessibility in a number of roundabout ways, but we've summarized them here. "Website accessibility" is the degree to which web content is understandable by assistive technologies and their users. According to the ADA, accessible websites do not "require people to see, hear, or use a standard mouse in order to access the information and services provided."
A given example is if a site relies heavily on PDFs. Because PDFs are image-based, they are often not accessible to blind people or others who rely on screen readers. To make PDFs accessible, the ADA suggests providing alternatives with the same content in a text-based format, like HTML or RTF.
Why Website ADA Compliance is Making Headlines Now
In short: ADA lawsuits have become more frequent and can be exceedingly costly (In 2006 Target settled an ADA lawsuit for $6 million).
With few specifics around what guidelines to follow to make a website ADA compliant, many businesses simply had never made it a priority.
As a result, there have been numerous lawsuits over the past several years as individuals with disabilities have not been able to experience the equal access to website content that they deserve under the ADA.
Most notable was a 2019 case involving Domino's Pizza that went to the Supreme Court. This case, which originated because a visually-impaired user was unable to complete an online order using his screen reader software, set the stage for companies to be required to follow ADA compliance requirements for their websites.
Other lawsuits have impacted similarly large companies and organizations including Netflix, Beyoncé, Fox News, Burger King, Nike, and CVS Pharmacy.
Do Websites Have to Be ADA Compliant?
This question is where it gets a little tricky.
In 2017, the U.S. Department of Justice (DOJ) stated they would need to further evaluate whether regulations around web information and services would be appropriate.
So, even though there is, as yet, no concrete rule that commercial websites must comply with the ADA, websites that do not comply are still subject to lawsuits.
The takeaway, therefore, being that websites should comply to avoid a legal dustup. This is especially important for the industries most frequently getting for compliance: eCommerce websites for physical retail stores, restaurants, entertainment, travel, and generally any business that also has a physical location.
Beyond the potential for lawsuits, however, companies that do not make their websites ADA complaint may suffer in other ways:
Google and other search engines use at least some of the same criteria as ADA compliance, such as using alt text to describe images, in their ranking algorithm. Failing to make your website ADA compliant can therefore result in worse SEO performance and even prevent your site from showing up in search results.
Companies that do not make their websites ADA compliant risk losing valuable customer loyalty. Just as you want to maintain a website that is easy to navigate and helps users find the information they're looking for, you should want to maintain a website that provides an equally seamless user experience for people with disabilities.
It's worth mentioning that the somewhat prevailing myth that website ADA compliance somehow impacts the quality of the website's design is completely false. There are no limitations to design, and in fact, there are many beautiful examples of ADA-compliant websites.
For example, with CCK's website, our designers made sure all text colors and backgrounds were WCAG 2.0 level AA compliant (more on WCAG soon!), which means the color of the text in relation to the background had a contrast ratio of at least 4.5:1 for normal text and 3:1 for large text. This is intended to help visitors with low visibility navigate the site more easily. Meanwhile, developers and content strategists also helped to create an ADA-compliant experience by following a long list of best practices and optimizations.
Web Accessibility with WCAG
Because of the uncertainties surrounding website ADA compliance, specific guidelines separate from the ADA have been established – the Web Content Accessibility Guidelines (WCAG), which were developed by a group within the World Wide Web Consortium (W3C) and most recently updated in 2018. The WCAG have a narrower focus exclusively on websites with the goal of making content more accessible to a wider range of individuals with disabilities – although it should be noted that they will not address every user need for all individuals with disabilities.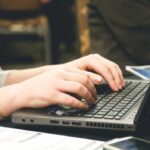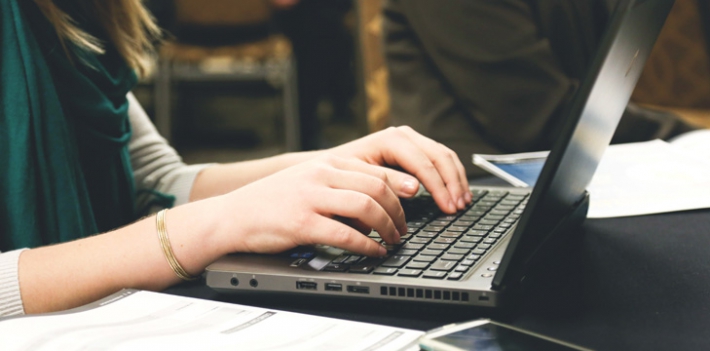 WCAG uses 3 levels to categorize a website's ADA accessibility:
Level A: accessible to some users
Level AA: accessible to almost all users
Level AAA: accessible to all users
Achieving an AA or AAA rating through these guidelines can be complex to navigate, making it a good idea to work with a digital partner who has experience achieving Level AA and Level AAA ADA compliance.
There are some basic points to be aware of when it comes to website ADA compliance, the most important of which is simply to effectively serve individuals with disabilities. Rather than being motivated toward compliance solely to avoid a lawsuit (although that is a nice perk), it's a good idea to practice compliance for the sake of making the web a more inclusive and accessible experience.
Overall, you want to be sure that all users with any disability would be able to enjoy your website or app to the fullest extent, and in the way it was intended to be consumed.
How to Make a Website ADA Compliant
Under the WCAG, there are four principles of website ADA compliance that you need to follow make your website ADA compliant:
Your website must be perceivable: Information and components of the user interface should be presented to all users in a way that they can easily interpret, regardless of any disability.
Your website must be operable: Each feature of your site should be easy to use and navigate by all users.
Your website must be understandable: All content should be comprehensible by all users, which may require additional explanations, tutorials, or guides.
Your website must be robust: Content must be comprehensive enough that it can be interpreted by all persons and assistive technologies.
Expanding further on the above, the following ADA compliance checklist provides some basic ways to make your website ADA compliant.
ADA Compliance Checklist
Use alt text to describe visuals, audio, and video, which tells the browser about that content if it can't be loaded and so it can be interpreted by a screen reader
Create transcripts for video or audio files so the content can be digested both visually and audibly
Ensure your website can be read using a screen reader, which includes keeping content concise and easy to interpret, and ensuring readability of any downloadable PDFs
Include Closed Caption for videos
Make sure your website has clean and organized HTML coding and tags
Review your page headings, titles, and navigation for proper font size and colors (relative to the background colors and contrast) to ensure readability. Learn more about what colors to use to meet WCAG standards.
Audit your website's code to be sure it is up to date and utilizing best practices
Take advantage of Google Chrome's WAVE tool to audit your website for any accessibility issues
Review the ADA Best Practices Toolkit for state and federal agencies to learn more about how to make your website ADA compliant
Yes, website ADA compliance is required by law, but like stopping at a stop sign or buckling your seatbelt, it's also the right and responsible thing to do. That being said, your business is not expected to meet accessibility standards on your own.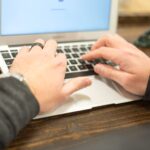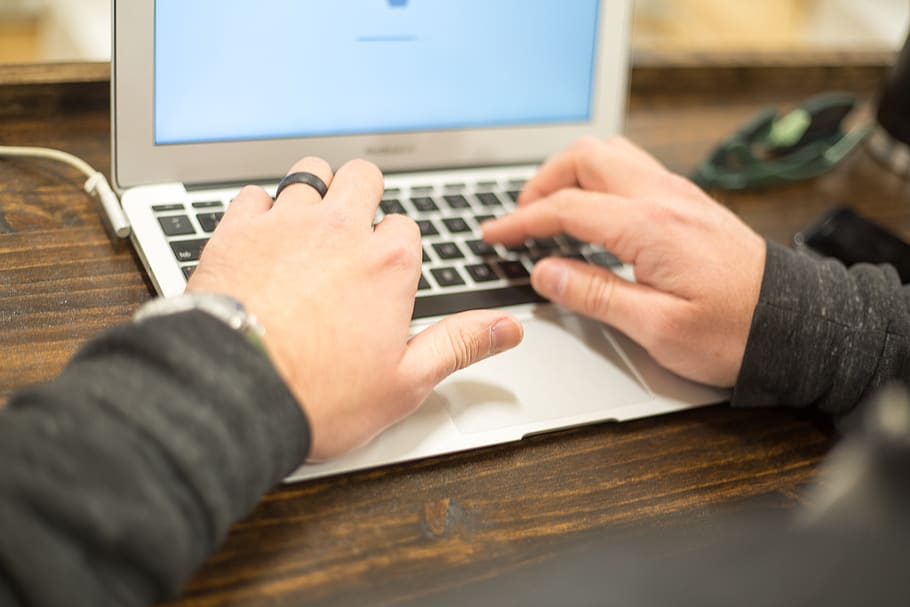 Working with a digital agency like ADK that is skilled in website development and digital compliance requirements can take the burden off individual website owners to navigate the necessary changes.
More resources:
Ensure Your Website Complies with ADA in 2020 and Beyond
If you're considering a website update or rebuild, now is the perfect time to ensure compliance with ADA in 2020 and beyond. ADA digital requirements will continue to become more prevalent and important as the modern digital landscape continues to evolve. ADK's team of designers and developers have vast experience building ADA compliant digital products, websites, apps, software, and more.