Editor's note: In our Steering the Ship series, we chat with product leaders in various industries. Today, we're sharing a conversation between Dan Tatar, CEO of ADK Group, and Michael VanRooyen, Chairman of Brigham and Women's Hospital Emergency Department.
In this post, you'll hear from Michael VanRooyen, Chairman of Brigham and Women's Hospital Emergency Department and Director of Harvard Humanitarian Initiative. He is also an entrepreneur, investor and lead singer of a 90's cover rock band.
Some of the topics he'll address include:
How his technology is transforming the emergency room

Changes to healthcare as a result of Covid-19

Innovations that are improving the lives of patients and doctors
VanRooyen is also the author of the book, The World's Emergency Room, which covers how digital health is helping to deliver care to places around the globe. 
Brigham's Grand Central Station
Healthcare is changing rapidly. It's reaching out to patients, it's using new technology, and it's trying to provide better and higher quality care. Most people think of the emergency department as chaotic, crazy, cram-packed, dangerous and difficult. And it's true, 20 or 30 years ago, the emergency department was not a very fun place to be indeed. Michael VanRooyen is changing that. VanRooyen's current mission at Brigham and Women's Hospital is to change the way they manage emergency department patients, and to expand the role of emergency medicine in the healthcare system. 
In the most basic sense, VanRooyen explains, "we are population rescue. We're there 24/7 to take care of all kinds of patients, no matter what happens to you." But the emergency room is more than that, too. They take care of the community as well as a larger network of transferred patients that can come in from all over to receive higher quality care. For this reason, VanRooyen views the emergency department as a "Grand Central Station of diagnostics and distribution of patients."
Patients from all over are transferred to the Brigham emergency room from other hospitals, from nursing homes, from facilities, ambulances, and more. VanRooyen's team conducts diagnostic testing and treatment, and then they decide if the patient should be admitted into the hospital, ICU, a skilled nursing facility, or go home and have home hospital or telemedicine contact.
What most people think the emergency department is, or was, is no longer the reality of today. Brigham in particular is very keen to change the model so that they can better serve as a hub of access for the healthcare system. 
Brigham and Women's hospital is located in the heart of Boston and is affiliated with Harvard Medical School. As a result, VanRooyen's team sees about 65,000 patients a year. If you include their sister hospital, the Brigham Faulkner hospital, where they fluidly admit patients back and forth, it adds another 30,000 patients a year. In total, VanRooyen's team sees roughly 100,000 patients a year.
What most people think the emergency department is, or was, is no longer the reality of today.
What makes Brigham's emergency department especially busy is the fact that it's also the ER for Dana Farber. As a result, about 22% of Brigham's patients are active cancer patients. Since most children end up going to Boston Children's Hospital, the result is a population of adults and cancer patients who are sicker and have more comorbidities than most emergency departments. 
This all makes Brigham's patient population more complicated to take care of — but also a great environment for innovation.
Innovating in Healthcare
To accommodate the huge caseload that Brigham's ER sees each year, they are in the process of building a new emergency department that is nearly double the current size, giving VanRooyen and his team the space they need to care for their patients in rooms, not hallways, like they were at the peak of the pandemic.
Part of the added comfort for patients and providers is not just the physical space, VanRooyen explains. "It's the environment that we can create. And there's a lot, as you would guess, in technology that can actually help us greatly to create a physical environment that is friendly to patients, easier to help observe patients and manage them, and then help us communicate with patients."
VanRooyen explains a few of the features they can change in the physical environment to improve the experience of the patient. In a space that doesn't have many windows, for example, there can be virtual windows in the room. There can be digital communication boards for patients to communicate with their providers more fluidly, even if they are COVID patients and require a barrier. Brigham specifically deploys a variety of digital technologies to help make patients more comfortable and allow providers to better monitor them. 
Brigham has truly become an innovation lab, where they try out and review new products in a clinical setting, and have internal teams that focus on creating new innovations of their own. VanRooyen acknowledges the need for bringing digital health innovations into practice for testing. "In the biotech world, the thing that companies who are developing digital innovations or innovations in health don't have is sick patients that move around a system. They don't have it. We have lots of that."
A common problem for digital health innovations is that they often don't account for patients who are mobile. They build a product that works great for a patient that stays in one room with the product, but they forget the reality of the healthcare system as dynamic. Patients are moved to MRI, to home hospital care, to nursing homes. As a result, remote monitoring is not only useful, it is a necessity for any healthcare innovation. Brigham provides one of the safest and best environments to test a product's capabilities in the real world.
"Certainly things in the lab or in the office may seem great and they may seem useful and they may seem like there's an application, but many of them actually don't work at all when you deal with patients who are sick and moving around the system."
Michael VanRooyen, MD, MPH
Chairman of Emergency Medicine at Brigham and Women's Hospital and the Director of the Harvard Humanitarian Initiative
In the process of testing these innovations, Brigham develops tweaks to existing products as well as entirely new approaches to care. For example, VanRooyen's team is working on improving care for behavioral health patients. "It's such a difficult scenario where you have psychiatric patients that come to the emergency department, then essentially they need to be de-escalated. So we're doing a lot with things like music, sensory control, and our virtual well windows and speakers in the room. Things that allow a patient to de-escalate without necessarily using a lot of medications."
There is so much potential for digital health innovations and all the ways in which they can help improve healthcare. Another example VanRooyen lists is the use of either light touch or touchless digital technologies to monitor the movement and vital signs of patients. Instead of being restrained in a room or constricted by wires and sensors, the room itself can monitor the patient's movements, respiratory rate, temperature, blood pressure, pulse and oxygen levels. This allows for easier transfer of the patient throughout the hospital, provides far more data, and is much less intrusive.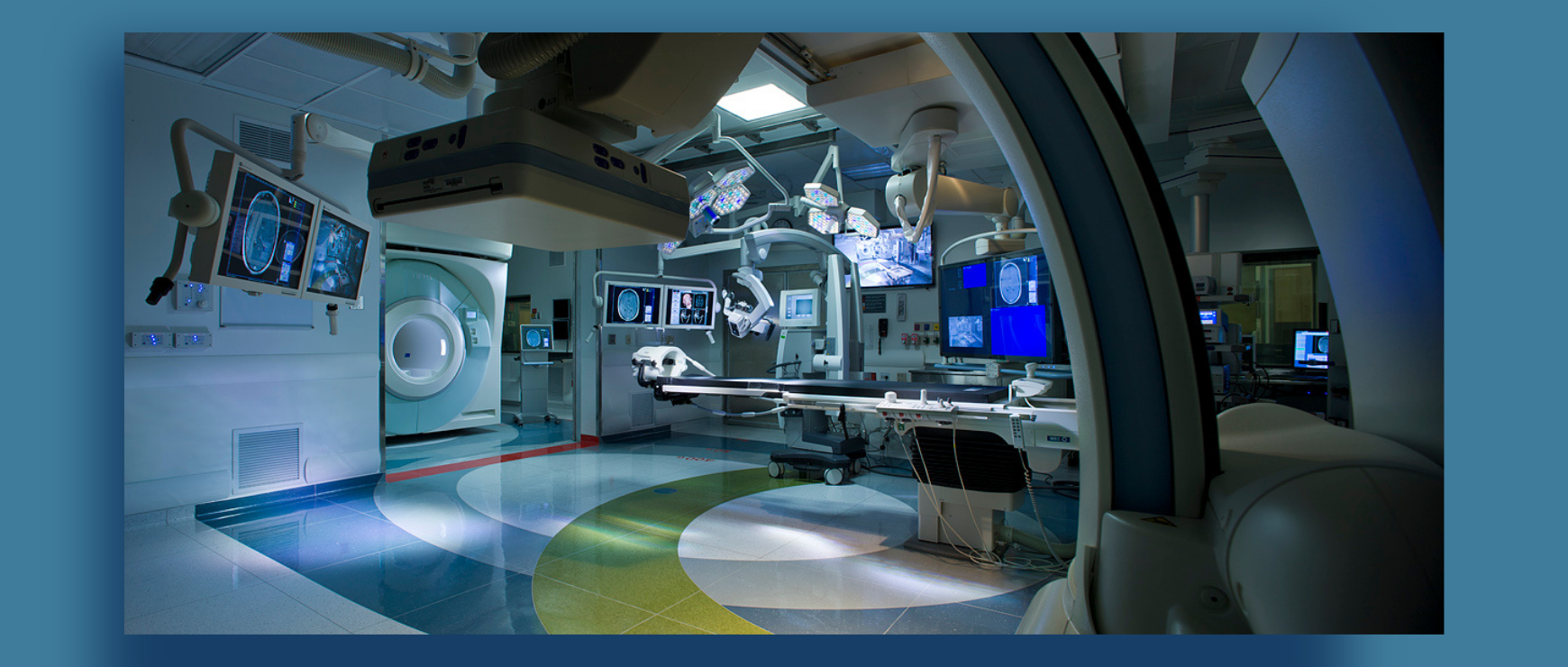 image from Brigham & Women's Hospital State of the Art Surgical Suite
Evolution Since Covid-19
It is no surprise that COVID-19 has profoundly affected the healthcare system, even bringing silver linings. It's accelerated innovations to address issues of sequestering, rapid diagnostics and telemedicine. Breath tests, no-fog face masks that can also detect fevers, and waste-water testing for covid are only a few of the many innovations that have occurred as a result of the pandemic. 
And it goes without saying, telemedicine simply took off. Because of the increased need to communicate with patients remotely, telemedicine is now here to stay in healthcare. Both between doctors and patients as well as between providers at different hospitals, the virtual communication space will continue to improve access to care. In rural hospitals, where maintaining an ICU is very expensive, telemedicine allows PA's or other physicians on duty to find support through telemedicine consultants. Even paramedics are using telemedicine. Instead of transferring patients whenever they're called, paramedics can use telemedicine to care for patients who do not need to be hospitalized, further reducing cost for the patient and the healthcare system as a whole.
Telemedicine also expands the capacity of the healthcare system. If a patient has pneumonia, for example, they would typically come into the hospital to stay for a few days. But now, these patients can go home and be monitored very closely, still receiving IV antibiotics and oxygen, and visited by a paramedic under medical control. By keeping the patient at home, it's a cheaper model for the patient and for the system. It also allows the patients that are very sick and need to be in the hospital to come in. "It allows the right people to be at the right place," VanRooyen explained.
Technology in Digital Health and Humanitarianism
VanRooyen predicts digital health and digital applications to have a large effect on the humanitarian world. Already, a major innovation in under-resourced areas around the world has been in digital communication and bandwidth. People all over the world have a smartphone, which means they have access to information. This impacts everything they do, including how they manage their contacts, their money, their health and their stress. VanRooyen explains just how prevalent and important smartphones are: "imagine if you were a refugee (and this is actually a study we did), if you were a refugee, you'd rather hang onto your smartphone than actually worry about eating the next day, because it is the safety net for everything." For this reason, the smartphone is one of the best opportunities for reaching these populations.
VanRooyen notes the difficulties that are becoming opportunities for digital health in remote populations: managing health without reliable paper records, lack of testing, lack of information in clinical sites, unclear safe zones. Digital communication and all the smartphone applications that are available to individuals is resulting in a massive transformation in healthcare for remote or under-served populations. "People are getting creative and are really starting to look to solve problems and better connect world-class care with the people that are the furthest away from it, which is quite cool." 
Telehealth, smartphones, digital healthcare and applications are no longer nice-to-haves. They are necessities. They have completely reshaped healthcare access and communication, and they are one of the best opportunities for healthcare and humanitarianism.
What's Next?
"The era of the clumsy electronic medical records has got to evolve," VanRooyen asserted. "We need to get to a place where EMR is far more patient friendly and far more facile with not only being able to manage patient care and data, but also have it in the hands of the patient." It should be easy and intuitive to share and access medical records, while also keeping them secure and private. 
VanRooyen also recognizes the need for better decision support. Rather than one doctor reviewing medical records and making the best decision they can, they would have the support of all the collective data and AI available to them. This would result in better diagnoses and treatment. 
Finally, VanRooyen believes the future of healthcare communication and network management will become priorities. "All of healthcare is being networked. All of them are smaller. Hospitals are being sucked into these larger networks and we need to develop lower cost alternatives, keep minor care patients or regular patients in the community setting while using these Academic Medical Centers at very high costs, but very high functional tertiary and quaternary care. The ability to manage a network and look at population-based health spreading, and then use the academic medical centers for only the high acuity issues is still a systems issue that we have to get better at."
VanRooyen has enjoyed his career mixing humanitarian work in war and conflict zones with domestic emergency medicine and technology development. With his wide range of interests, VanRooyen has a few predictions for what the future brings. "For me, the future lies in helping develop young leaders to be much more fluid with technology and how it advances in the field." In addition to developing new technologies, VanRooyen predicts the leaders of the future are thinking out-of-the-box to improve technology fluency and access to care both in the US and around the globe. This out of the box mindset is crucial in all business or products that want to stand apart. And it doesn't happen by accident. If you're curious about experience-driven transformation and how it can help your organization grow, let us know.
We're always on the lookout for the unsung heroes of product strategy. If you're interested in sharing some hard-earned lessons, set up a conversation with Alex Fedorov, our VP of Design by reaching out here.
Mike VanRooyen is Chairman of Brigham and Women's Hospital Emergency Department and Director of Harvard Humanitarian Initiative. He is also an entrepreneur, investor, lead singer of a 90's cover rock band, and the author of the book, The World's Emergency Room.
Solving intractable problems is our specialty.
From problem definition to prototyping, all the way through performance optimization – we've helped industry leaders launch world-class experiences at critical inflection points. Let's talk about your biggest opportunities.
Let's Chat.