Firefly Health
Transforming the patient experience with Firefly Health
Challenge
A telehealth startup needed a high-tech platform that wouldn't just support telemedicine, but would help change patient perceptions of the quality, cost, and accessibility of healthcare.
Solution
Applying a deep knowledge of healthcare app development to support the future of primary care with a fast, robust, and personalized telehealth app experience.
Impact
The app resulted in high patient demand, giving Firefly Health the ability to invest additional resources into further evolving the online clinic.
The Challenge
In an industry that struggles with consumer perceptions around quality, cost, and accessibility, a telemedicine startup needed a secure and sophisticated platform to provide personalized, quality online health services.
The pandemic cast a spotlight on the importance of telemedicine capabilities, but the founders of Firefly Health were at the forefront of this shift long before that. Doctors Andy Ellner and Jeff Greenberg had a plan for a telemedicine platform that wouldn't just enable secure health services, but would help add personalization to a traditionally impersonal service.
In this relatively new space, FireFly Health needed a platform that would offer a great user experience and comply with HIPAA guidelines, which are critical for online medical services. To ensure a high level of personalization, the platform would require a custom CRM and an integrated ERM tool.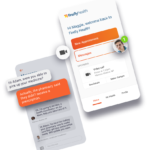 The Solution
ADK began working closely with Firefly Health's team to develop a platform that would satisfy the full scope of needs on the front-end and back-end of the project.
Multiple parts of the projects were done in tandem; ADK worked with Firefly Health's designer-developer and project manager to build the front-end of the mobile application, while the back-end details like API integrations were handled by ADK's developers and HIPAA engineers.
For ADK, it was critical to marry a highly-personalized experience with the highest level of security and privacy for patient data.
Through partnership with almost the entire Firefly Health team, ADK deployed an exceptionally personalized and user-friendly virtual clinic offering all the primary functions of an in-person visit. With the new platform, patients feel cared for, secure, and are able to access an entirely new class of primary care.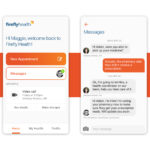 The Impact
From launch, patients flocked to the virtual app for their ongoing primary care medical needs, and the immediate business growth allowed Firefly Health to evolve.
The success of the telehealth platform provided Firefly Health with additional resources and fundraising success, which the company used to invest in growing their business, opening up physical office locations and evolving the online clinic.
Firefly Health continues to add functionality, features, and API integrations to provide a transformative, competitive, and user-friendly experience for patients.