Replacing or updating processes within your business using technology is an attractive proposition. You can unlock efficiency, savings, and other advantages of your competition. However, because most of these solutions need to be heavily customized to be effective, they're often a large investment. One that will only have positive ROI if it achieves significant adoption by your team. So how do companies achieve 70, 80, even 100% technology adoption rates? Walk through the proven strategy used by ADK and ALKU for successful technology adoption below.
Take specialized staffing and recruiting solutions provider ALKU, for example. The company recently partnered with ADK Group to take its unique workflow involving physical whiteboards digital. As ALKU quickly grew and expanded beyond its Andover, Massachusetts headquarters to new office locations nationwide, ALKU's founders and senior executives realized that they needed a digital solution to ensure that their distributed workforce remained in sync. Equally critical was creating competitive advantage by making ALKU's unique culture of friendly competition scalable.
"We've become a full-fledged tech partner with ALKU," Pearse said. "We're not just developers maintaining their application, but also helping them grow, understanding their business needs and working closely together to continue to evolve their business."
– Ryan Pearse, Project Manager
ADK worked closely with ALKU's team to give the company's old-school analog process a digital upgrade, enabling staff and clients to seamlessly access the workflow via their computers as well as shared iPads in each office location. Once completed, the solution, called ALKU Everywhere, successfully connected ALKU's digital whiteboard data across the company's six office locations in Massachusetts, New Hampshire, North Carolina, Tennessee, and Virginia. What's more, the solution saw a 100 percent adoption rate among eligible ALKU users.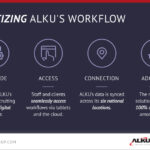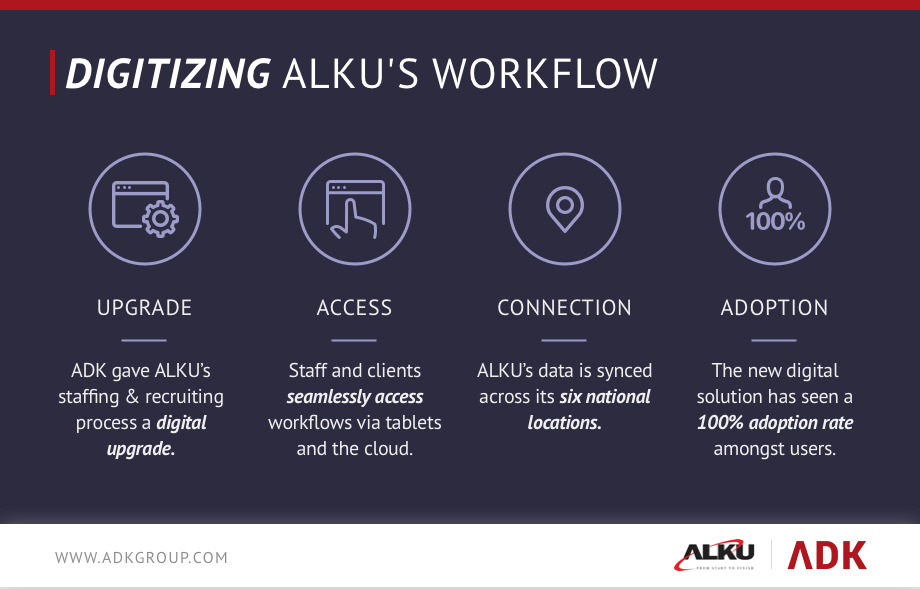 ALKU's success showcases the ability for custom technology to enable businesses to scale and outperform the competition. ADK Group's CEO Dan Tatar and project manager Ryan Pearse recently explained that by working closely with ALKU to tailor ALKU Everywhere for ALKU's unique process and culture, the product has helped to increase ALKU's company value and performance.
"The adoption of the product is due to it being very aligned with their own in-house process that had been in place for years," Tatar said. "There's no way to drive adoption without really understanding the context and building a custom solution."
Tatar and Pearse recently outlined the lessons that firms can learn about working with a technology partner on a custom solution. As they both explained, it pays to work with a partner that understands what makes a business successful and can implement solutions that increase competitive edge by enhancing differentiation, culture, and process efficiency. This has been especially clear as the world comes to grips with the fallout from the global COVID-19 pandemic.
Maintain The Systems That Work
Tatar said one of the biggest challenges was maintaining as much of ALKU's previous workflow as possible. This was key to ensuring that ALKU Everywhere would see significant adoption once released.
"We needed to capture as much of those little nuances as possible so that the team would adopt it," Tatar said. "That was the biggest risk of the project … When you're taking something manual and updating it with tech, how do you make sure to not lose the things people like about the original process?"
One of the most important items that ADK Group had to focus on was integrating within the company's current enterprise technology stack through ALKU's rapid growth. "We needed to make sure the automated solution we created didn't require significant onboarding to a new way of doing things," Pearse said. The effort paid off. Since launch, ALKU has seen 100 percent adoption of its new digital solution among eligible users. Pearse noted that this metric is a key point of pride for the ALKU team.
Partner For Success
Tatar pointed out that customized technology solutions can be risky and pricey investments. For this reason, it is critical for firms to select a technology partner that understands how their business operates before making an expensive investment that could misfire, or worse, fail due to a lack of organizational adoption.
During the discovery phase, the ADK team got to know the ALKU workflow intimately and team members from both companies communicated frequently during the process. ADK also provided frequent status reports to demonstrate progress to ALKU. This ensured the company's expectations and requirements were on-target throughout the process.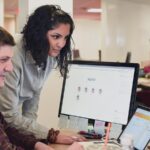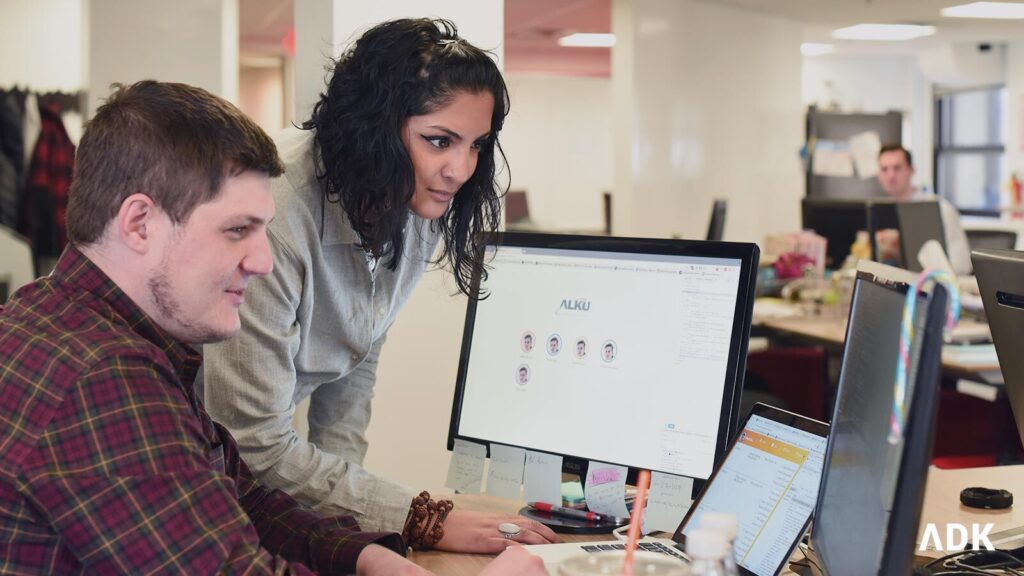 "We really built this alongside ALKU," Tatar said. "There was no big reveal at the end when they saw some new product and had to buy in at that point." This collaborative and inclusive approach helped ADK Group develop the right product for ALKU's needs. Pearse added that since launch, the tone of the relationship has been more of a collaborative partnership than a typical agency/client dynamic. By providing constant communications and involving ALKU's team in the development process, ADK ensured they were meeting agreed-upon expectations. This process also helped build momentum and generate excitement for the company-wide release.
"We've become a full-fledged tech partner with ALKU," Pearse said. "We're not just developers maintaining their application, but also helping them grow, understanding their business needs and working closely together to continue to evolve their business."
Use Each Launch as a Platform for Future Growth
This partnership mindset didn't just help ADK Group to understand the most effective way to support ALKU in modernizing its existing whiteboard-oriented workflow. The enabled ADK to help the company pursue its expansion goals and participate in additional innovations, including a new custom gamification application that is in the works. Pearse said because his team became so familiar with ALKU's workflow during their initial collaboration, it was seamless to pivot towards developing an additional product that furthers ALKU's culture and supports its future goals.
"Not only did we want to take what they had and make it into a digital solution, we also wanted to recognize and learn about opportunities to help ALKU realize their long-term vision," Pearse said.
Of course, the true benefit of the digital upgrade could not have been foreseen either by ADK Group or ALKU at the early stages of the collaboration. The customized technology helped ALKU maintain stability during one of the most chaotic periods in recent memory. As the COVID-19 pandemic unfolded, millions of businesses struggled to transition to fully remote workplace operations. ALKU, on the other hand, was able to use the digital whiteboard technology to maintain communication with its displaced staff and conduct business with minimal disruption.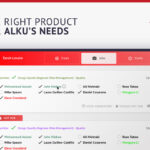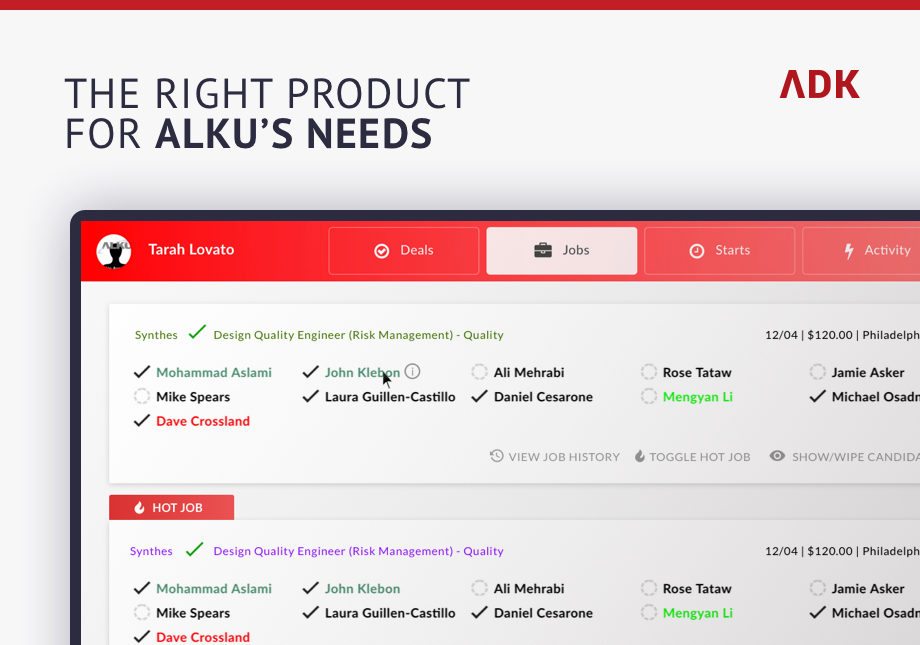 This highly personalized technology is helping ALKU navigate a highly uncertain time and seamlessly adapt to the new normal of remote work. ALKU's partnership with ADK Group has enabled the company to navigate the rapid switch to remote work with minimal disruption as well as prepare for future expansions.
In these uncertain times, it pays to work with partners who can solve problems for today and plan for growth tomorrow. The right technology solution provider can do both.