Boston Ivy League Business School
Helping an Ivy League business school automate and scale a manual process through design sprints
Challenge
A team of faculty at a Boston Ivy League business school needed to interview hundreds of alumni. Off the shelf solutions wouldn't cut it and they couldn't afford to waste development hours.
Solution
We worked with the team to execute a prototyping and user testing strategy that validated the strongest potential solutions and crystallized what success looks like. Our experience designers then worked to bring the winning ideas to life as a custom survey tool.
Impact
By investing in strategy up front, the team was able to secure more funding to build their validated proof of concept with the confidence that their solution would work. They're now able to scale their engagement and research with alumni and students.
The Challenge
Faculty members at an Ivy League business school in Boston needed to capture rich stories and data from hundreds of alumni. They weren't satisfied with existing solutions and couldn't do it manually. 
At an Ivy League business school in Boston, a popular course called "Crafting Your Life" relied on students and faculty conducting interviews with hundreds of alumni to collect details about their lives.
Their team knew that the sheer size and scope of the project required a digital survey platform to make data collection easier. They needed a way to collect and analyze feedback and data, without ignoring the experience of the interviewees. After all, not everyone feels comfortable talking about themselves at all, let alone sharing intimate details about themselves.
Their unique needs disqualified existing products like Qualtrics. With  vague ideas of what they wanted and didn't want – and limited resources to get there – they needed to efficiently identify their best option. Up against both the clock and a budget tightened by recent funding restrictions, the team couldn't afford to accidentally go down the wrong path.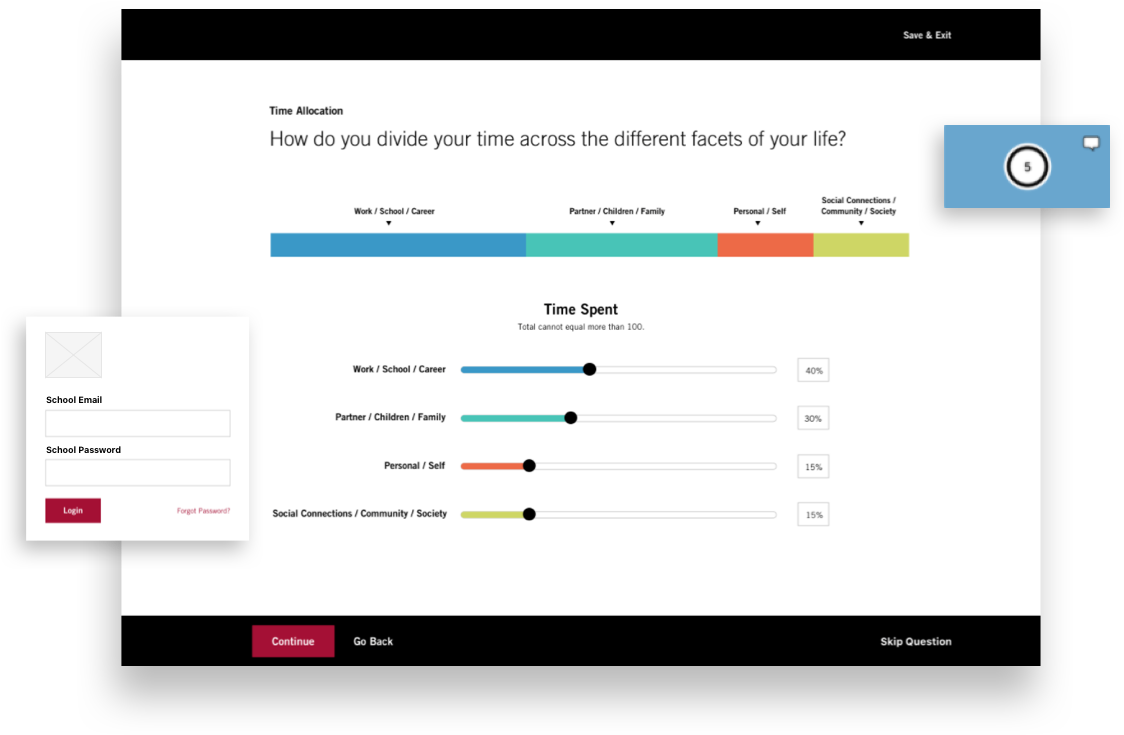 The Solution
Our design strategists worked with faculty and alumni to build a clear product roadmap. We defined success through user research, testing, and rapid prototyping. Then we brought it to life with a flexible set of designs.
Following extensive working sessions with the team, it was clear the solution needed to go beyond a traditional survey tool. We needed to deliver an experience that was easy to use for the alumni, encouraged natural and intimate storytelling, and could help the faculty team unearth valuable insights. 
At this point, the leader of the faculty team had the sense that she knew what she wanted – she just had to see it first. Each of the other stakeholders in the project also brought their own ideas to the table. But they had no framework for exploring and validating these ideas.
With that in mind, our first phase focused on rapid iteration of ideas while gathering feedback from users about their experience. We began broadly, engaging with the alumni to understand how they might–or might not–use a tool like the one the team was going to build. We used their feedback as a north star for prioritization decisions. We then identified the most compelling ideas that aligned with user needs and eliminated any idea that didn't fit that criteria. Our team then underwent a period of focused innovation, rapidly prototyping the various ideas to validate how they would work.
As with many teams in higher education, they had no shortage of ideas. But they didn't have the same luxury with their timeline or budget. This meant success relied on being able to define and execute a smart product roadmap with no wasted time.
With the benefit of a clear direction the team now knew what they needed to do. A key requirement of the tool for the faculty team was flexibility. As their interview process grew and evolved they would explore new formats and questions. We wanted to make sure the designs would be able to adapt to those changes. The designs ended up balancing internal requirements like flexibility with external requirements that made it quick and easy to share valuable information for the interviewees. We also included data collection best practices to ensure we helped the team achieve statistical significance with their research.
We ended up designing an innovative survey tool, with careful consideration to the user experience of both the large and diverse group of alumni and the researchers. The custom application was designed to be as frictionless as possible to encourage engagement from a notoriously busy set of successful alumni. And lastly, but not least, the faculty team lead who would know what success was when she saw it was satisfied.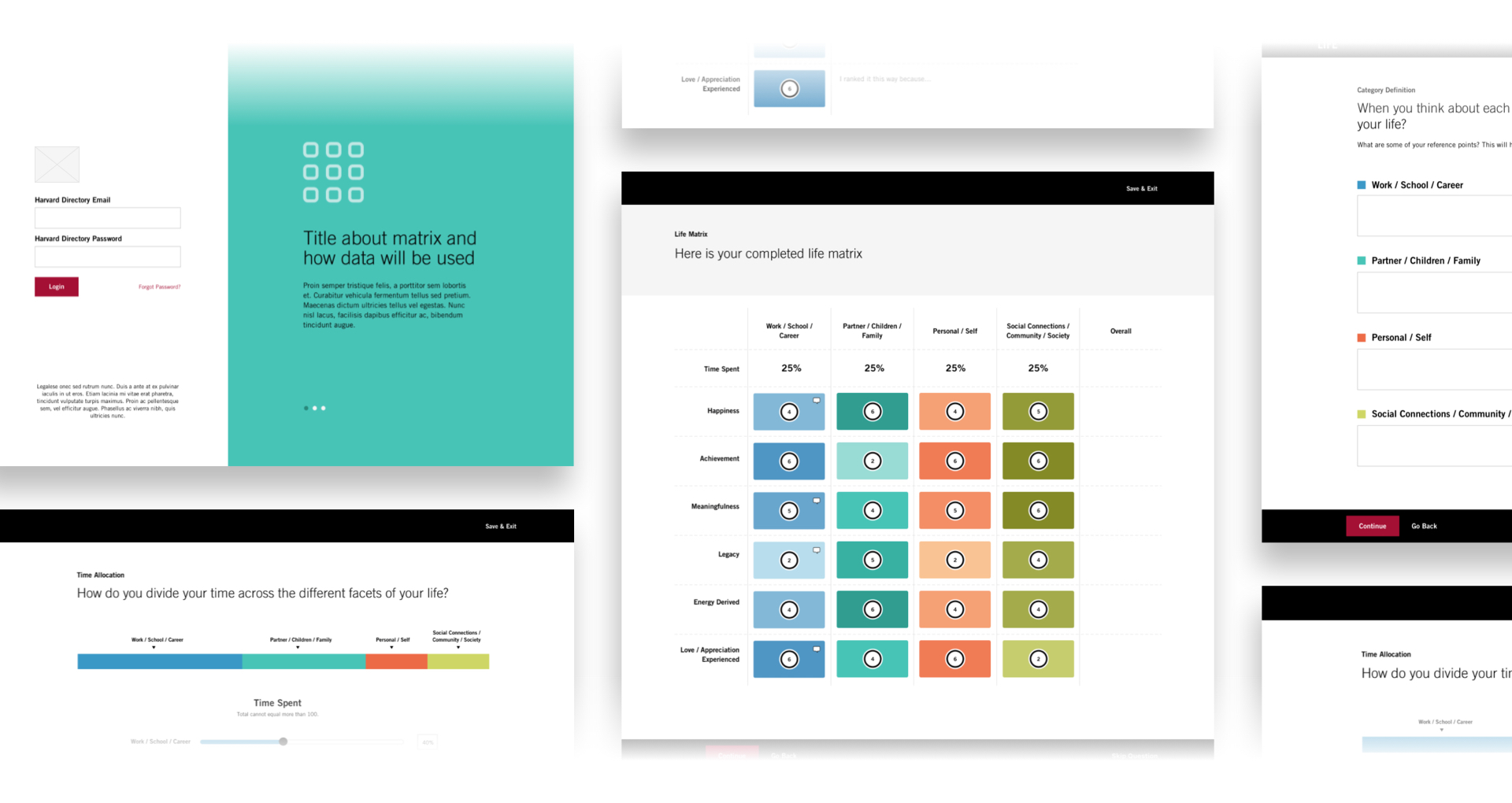 The Impact
With a proven design, the faculty team was able to unlock more funding to build this crucial survey app. It's now being used by faculty to collect rich personal stories from alumni that will help their students craft a more fulfilling life.
At the outset, the faculty's survey project seemed to have a slim chance of success. Their ask of interviewees was large. They had a vision of what a good experience might include, but lacked the clarity to confidently choose the right one. That's when they reached out to ADK.
Our team took the time to develop a deep understanding of the faculty's needs as well as the point of view of the interviewees. This up front work was crucial: it built alignment around a path forward, and enabled rapid innovation towards a custom-built survey app that would scale with the needs of the faculty.
Now, the Crafting Your Life team has an efficient way to collect and aggregate rich interview responses from a large and diverse group of alumni. As we approach the start of a new school year, the tool will soon be used by the students themselves to better learn from their alumni.