Sonoma-Cutrer Vineyards
Delivering an award-winning digital experience for Sonoma-Cutrer
Challenge
Sonoma-Cutrer Vineyards, a brand of Brown-Forman Corporation, was limited by its website in its ability to grow brand awareness outside of the Sonoma Valley.
Solution
Creating an elevated online experience for wine drinkers that highlights the Sonoma-Cutrer brand story, enables greater customer engagement, and drives direct-to-consumer sales.
Impact
The website, now an award winner, drove a significant increase in product revenue and spread the Sonoma-Cutrer brand to a broader customer base.
The Challenge
Wanting to grow brand awareness beyond the Sonoma Valley, Sonoma-Cutrer Vineyards needed a modern website that could support more impactful sales and marketing efforts.
Sonoma-Cutrer, an award-winning vineyard and flagship wine brand of Brown-Forman Corporation, wanted to grow brand awareness beyond the Sonoma Valley, and focus on its direct-to-consumer business model to increase wine sales and wine club memberships.
The brand needed a new website experience that would tell the Sonoma-Cutrer story and communicate their award-winning wines and artisanal winemaking processes.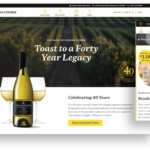 The Solution
Taking a storytelling approach to the user experience, ADK created an interactive site built for online sales and optimized for search.
Combining digital and content strategy with creativity and technical expertise in web design and development, we were able to tell the Sonoma-Cutrer story through bold visuals, interactive features, and immersive virtual content. With an eCommerce integration, the site became a powerful sales and marketing tool for the winery.
For ADK, it was all about creating a unique user experience that would showcase the brand story and captivate wine drinkers everywhere.
The site has an aspirational feel that has transformed Sonoma-Cutrer from a luxury wine brand into a luxury wine experience.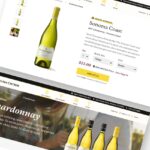 The Impact
The new website has consistently delivered impressive performance metrics and helped drive brand awareness outside of the Sonoma Valley.
From launch, the Sonoma-Cutrer Vineyards website increased revenue from digital sales nearly 1.5%. The site also received the Gold W3 Award for Visual Appeal – Experience.
The revamped website, complete with search engine optimization, customizations, and eCommerce capability, has helped the wine brand attract a larger customer base and better communicate its quality product through an attractive digital experience. The new, refined, experience continues to drive increased sales, visits to the vineyard, and membership purchases to this day.