Trade Hounds
Creating the leading social network for the trades
Challenge
Trade Hounds Founder David Broomhead wanted to provide a social network that would bring the hard-working trades community of America together.
Solution
Creating a groundbreaking social network for the tradespeople of America on a mobile platform that could scale to support rapid user growth.
Impact
Based on ADK's project prototype, Broomhead secured fundraising for the mobile app and, once launched, amassed more than 200,000 users and counting.
The Challenge
David Broomhead had a vision to bring tradespeople from across America together on a community-based mobile app. He needed the right partner to help bring that vision to life.
Trades people provide critical services for Americans everywhere – building the infrastructure that supports daily life as we know it. Yet they had no where to call home online. David Broomhead founded Trade Hounds to bring together the hard-working tradespeople of America on a social platform built for them – where they could talk, share images, and network with each other.
Broomhead needed to enlist the help of professional app designers and developers to provide a project plan that would help validate his fundraising efforts, and to build a specialized app capable of supporting a large user base.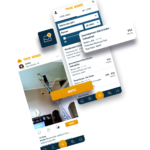 The Solution
ADK developed a well-defined product roadmap that helped secure funding and guided the creation of a groundbreaking, intuitive mobile app.
In just six months, ADK was able to size up the project scope, put together a project plan that helped Broomhead validate the project and secure funding, and develop the social networking mobile app.
For the team, it was not just about meeting Broomhead's specific vision for the mobile app, but developing a solution that would scale as Trade Hounds grew.
ADK architected an intuitive and fun-to-use mobile app that not only enabled users to communicate and share with ease, but would easily accommodate explosive user growth and advanced functionality to help monetize a growing userbase.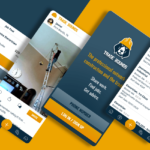 The Impact
Fueled by early fundraising and sponsorship wins, Trade Hounds is well-positioned for continued growth and success.
After securing a multi-million dollar fundraising effort, and sponsorships from major brands, Trade Hounds is enjoying the success of the app as its user base continues to expand.
The growth is a testament to the founders' affinity for their audience translated into an effective product strategy.
ADK continues to work with Trade Hounds on implementing new features and functionality, and our CTO Jon Clark works on the Trade Hounds technical team to oversee and manage these ongoing efforts.