With so much available online, it's no surprise healthcare has joined the digital ranks in the form of telemed, or telemedicine.
So, how does telemedicine work? It allows healthcare providers to conduct appointments with patients using telecommunications technology, such as video or online chat functionalities. This approach is useful for follow-ups, ongoing management of a known health issue, consultations that may not require an in-person visit each time, or for patients who live in more remote locations and may have difficulty traveling for appointments.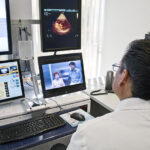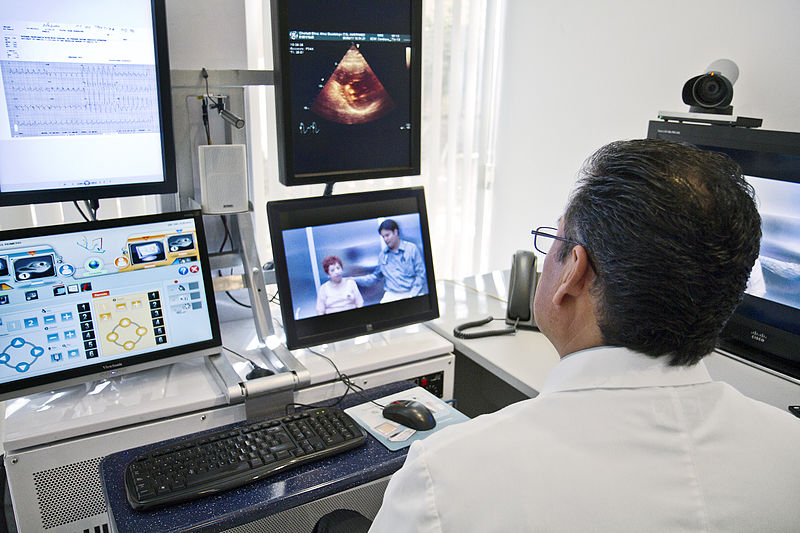 But before we get too far into this topic, it's important to be clear that telemed, while playing an arguably significant role in expanding options for patients outside of their regular appointment schedules, should not be seen as a replacement for necessary in-person care. As advanced as digital technology has become, in many situations there is no substitute for an office visit with a healthcare provider.
That being said, the novel circumstances of the COVID-19 pandemic have thrust telemed into the spotlight as patients and providers alike struggle with the safety of paying a routine visit to healthcare offices.
Taking Advantage of Telemedicine During a Time of High Demand in Healthcare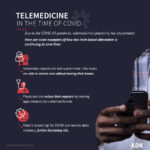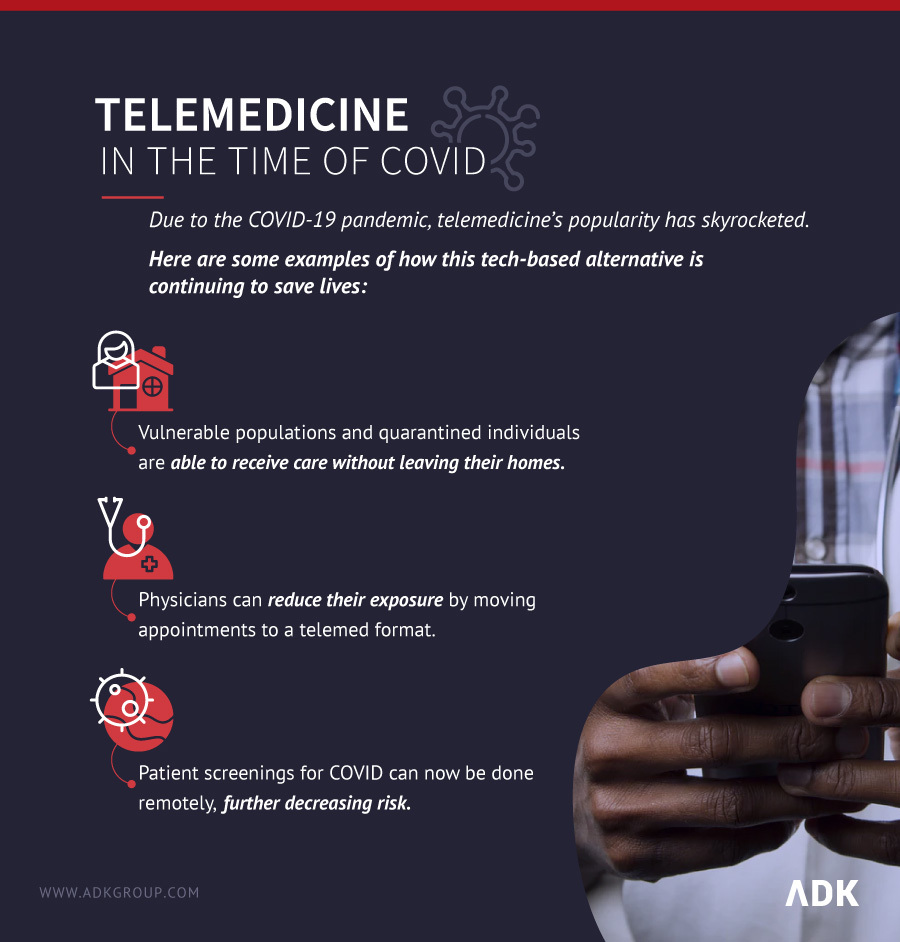 Telemedicine was already playing a large role in healthcare prior to the COVID-19 pandemic, but since the spread of the virus has resulted in unprecedented demand on healthcare professionals around the world, the option has skyrocketed in popularity.
COVID-19 has created multiple scenarios in which telemed technology can play a key role, including:
Individuals who have been ordered to self-quarantine, are following stay-at-home orders, or simply do not wish to visit their healthcare provider in person at this time, are now able to seek medical care or keep any prior-scheduled appointments without leaving their homes.
Vulnerable populations such as chronically ill or elderly patients who are more at risk for contracting or spreading the Coronavirus while visiting a doctor's office can remain at home and still consult with their provider.
Patients with appointments deemed "non-essential" can maintain their care from their homes.
There are notable telemedicine benefits for healthcare providers as well. Doctors can reduce the number of exposures they have overall by moving certain appointments to a telemed format. They can also continue working from a remote location outside of their normal office space if needed.
Perhaps most importantly, however, they can conduct patient screenings for COVID-19 remotely, and make determinations about care prior to seeing patients in person, which also allows for better preparation and protection.
Dr. Meetah Shah, an emergency room physician at Rush University Medical Center in Chicago, recently told the New York Times that the Coronavirus outbreak is "…kind of a turning point for virtual health."
Of course, the usefulness of telemedicine during a pandemic is quite different from how it's used during normal circumstances. COVID-19 is certainly keeping individuals home who would otherwise be willing and able to visit their healthcare provider; however, the option for telemed can be seen as a breath of fresh air during this uncertain time.
Telehealth Vs. Telemedicine
There are a host of telemedicine apps, many of which fall under the category of telehealth, which acts as a subset of telemedicine. While inclusive of live video or phone appointments, telehealth also consists of mobile or web applications provided by healthcare organizations to keep patients keyed into their own care online.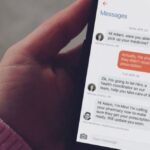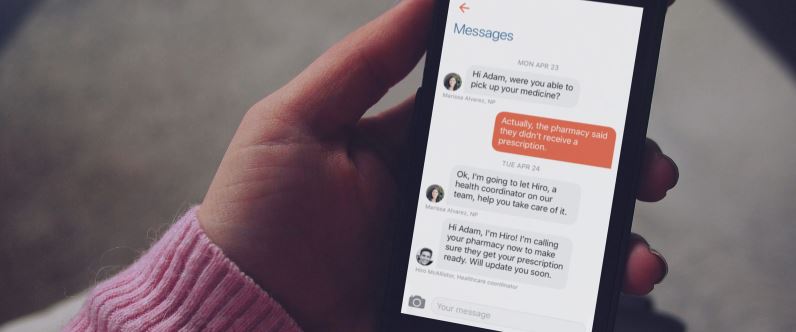 Telehealth apps may include, for example, an online portal where patients can receive messages from their provider, view recent test results, receive appointment reminders, view resources relevant to their care, or send a message or chat with their provider about a specific question or concern.
Other telehealth applications include:
mHealth (mobile health): These apps track patient data like blood sugar levels, heart rate, or water intake, which is especially useful for individuals with special health needs like diabetes or a heart condition. Patients can monitor their own data in real-time using their mobile phones or tablets. A perfect example of a comprehensive mHealth platform is this fully functional, HIPAA-compliant app that ADK Group built for Firefly Health. Among other things, the app helps the Firefly Health team provide intelligent care for their patients, while also building personal relationships with their customers.
Remote Patient Monitoring (RPM): Through the digital transmission of patient data, healthcare providers can monitor and review their patient's health information in real-time, which is incredibly useful for seniors living on their own or patients who are more remote.
There's no question these new, digital means of communication between patients and their healthcare providers are changing the more traditional view of medical care. But we're learning quickly that, pandemic or not, the telemedicine benefits of convenience, information, and accessibility have increased by allowing certain forms of healthcare to be practiced online.
Does Insurance Cover Telemedicine?
Coverage for telemedicine is largely at the mercy of state and federal governments, and private insurance companies:
Private Insurance Companies: Because telemedicine is relatively new and fast-moving, there are currently no set standards for private insurance companies – some recognize the value and offer coverage, and others have been slower to get on board.
Medicare: Medicare covers telehealth services if they fall under an "interactive, 2-way telecommunications system," and are evolving as the cost savings and impact on patient health from telemed is recognized by a growing number of organizations.
Medicaid: The federal Medicaid statute does not currently recognize telemedicine as a "distinct service" but individual states can still choose to cover specific telemedicine services under Medicaid.
Due to the somewhat complicated nature of insurance coverage in regards to telemedicine, the best practice is for all patients to contact their health insurance provider to clarify any kind of coverage on an individual, case-by-case basis.
HIPAA Guidelines for Digital Health Apps and Services Like Telemedicine
The Health Insurance Portability and Accountability Act (HIPAA) was first enacted in 1996, long before digital technology introduced not only remote healthcare services but security issues with sharing health information over digital platforms.
Compliance with HIPAA is crucial for healthcare providers, and as telemed technology increases in popularity, there are more resources in place to meet the demands of digital technology in the healthcare space.
ADK has spent the past 10 years building HIPAA-compliant mobile apps, doctor-facing dashboards, and websites for leading health organizations like Massachusetts General Hospital and Brigham & Women's Hospital, as well as companies at the forefront of virtual care like the aforementioned Firefly Health.
The key to understanding your HIPAA compliance requirements is understanding what type of functionality your organization's telemed technology is going to have. Anything that will be storing, tracking, or collecting information that would be considered Protected Health Information (PHI) under which HIPAA must comply. Additionally, HIPAA compliance is required for any exchange of information or interaction with entities covered by insurance policies, such as doctor's offices or healthcare providers.
Where is Telemed Technology Headed?
There's no doubt the COVID-19 pandemic is calling more attention to the value of telemed technology. For example, Medicare is enabling patients, doctors, and other healthcare providers to take advantage of telemedicine during this time.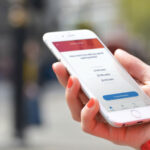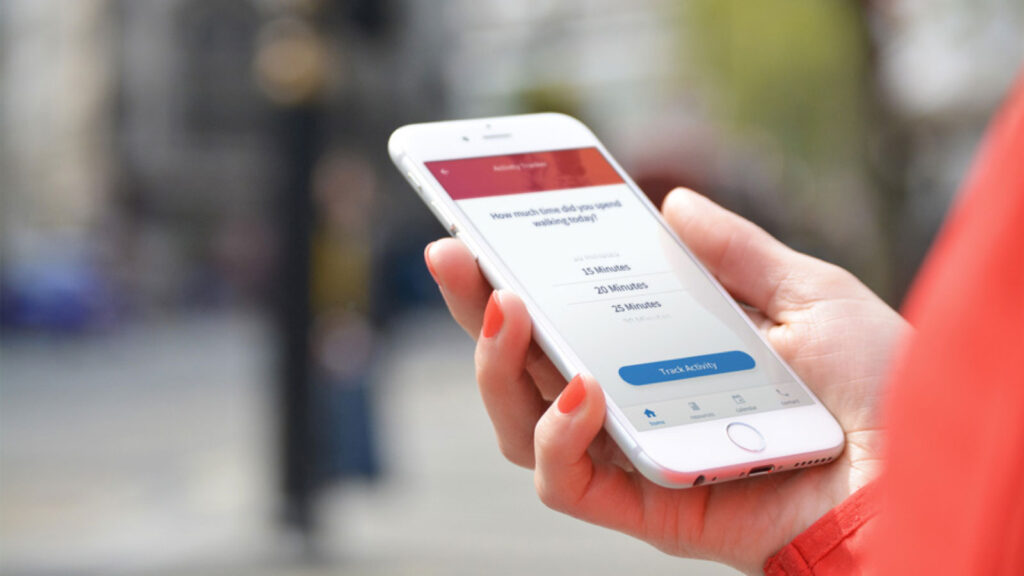 While testing for COVID-19 is not yet possible via telemed technology, it is serving as a valuable tool to keep healthcare providers and patients safer. Being able to make pre-determinations about patient visits or speak with a patient about their symptoms before they come in allows doctors to take greater precautions and make smart choices about appointments.
Once things have calmed down and daily operations return to a more normal cadence, telemed will remain an important method of healthcare into the future, and will likely evolve to become even more accessible and dynamic for patients.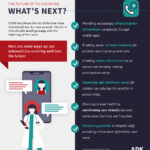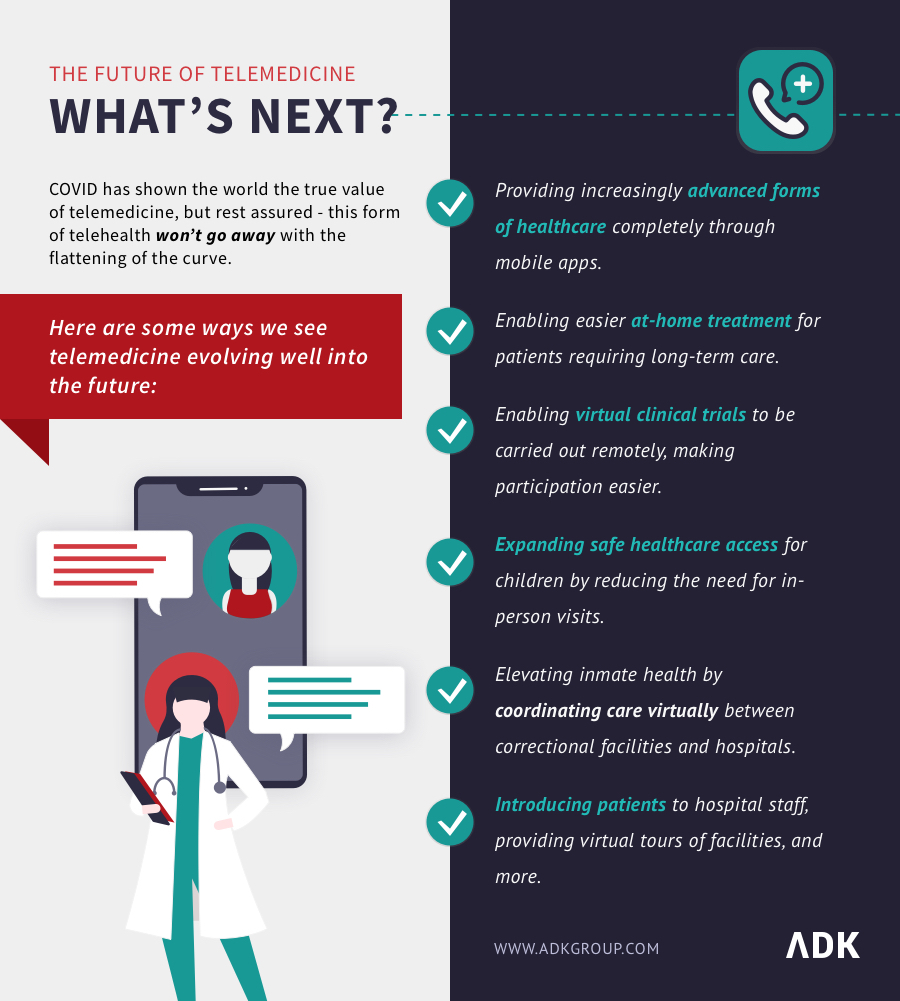 With that said, we see several ways telemedicine could expand going forward:
Providing multiple forms of healthcare: Currently, individuals can access mental health services through an app, and this concept is likely to grow into areas of medical need such as management of chronic diseases or other types of specialty care. The key benefit of these services would be minimizing emergency room visits with more accessible care.
Enabling at-home treatment: Telemedicine could enable patients requiring long-term care or hospitalization to do so from the comfort of their own homes with connected devices that allow their doctor or healthcare provider to monitor them virtually as they would in person.
Conducting virtual clinical trials: For organizations struggling to find participants in clinical trials, telemed technology may provide a solution. A wider swath of participants can be contacted, information can be collected through connected devices, and the trial could be completed remotely, making participation easier overall.
Reaching different patient populations: Healthcare providers could use telemedicine to reach out to specific patient populations who may need – but might not be taking advantage of – healthcare services. In the interest of keeping people healthy, there is an opportunity to utilize marketing automation technology to connect with new patients to provide telemed services.
Elevating inmate health: Healthcare accessibility for inmates can be significantly broadened by coordinating care virtually between correctional facilities and hospitals. Inmates with specialized care needs can be seen more often and more effectively through a telemed approach.
Enhancing the patient experience: Telemed creates a unique opportunity for healthcare organizations to get more personalized with patients. In addition to the healthcare services the technology provides, it can also be used to introduce patients to hospital or office staff, provide a virtual tour of the facility, or give details about an upcoming visit, all of which can put patients' minds at ease.
Expanding healthcare for children: Pandemic notwithstanding, telemed technology offers a good opportunity for pediatric care from home, reducing the need for in-person visits. This approach is especially useful for children with more serious health issues who can benefit from remaining home more often while still receiving valuable care.
Increasing the speed of triage: If a patient who has been leveraging telemedicine is admitted to a hospital – or even if they are coming in for a route office visit – their information can be quickly accessed and applied to their visit and treatment, eliminating the need to fill out forms, interview family members, call another healthcare provider, or dig through a database for information. Streamlining this process can be seen as especially useful during an emergency room visit when the speed of care is paramount.
COVID-19 is showing us the value of telemedicine, but that value won't go away with the flattening of the curve. Therefore, patients, doctors, and other healthcare providers should consider telemed technology an important element of healthcare now and into the future, and health organizations who are not currently taking advantage of digital technology to connect with their patients should consider doing so immediately.
Especially during a pandemic, but no less so during calmer times, patients are coming to expect more accessible and more personalized care, and an office visit is no longer the only way to deliver on that expectation.
If your healthcare organization is interested in leveraging tested and proven technology to improve your experience, you need to work with an agency with years of experience in telemedicine development for prominent healthcare organizations. Contact us today.