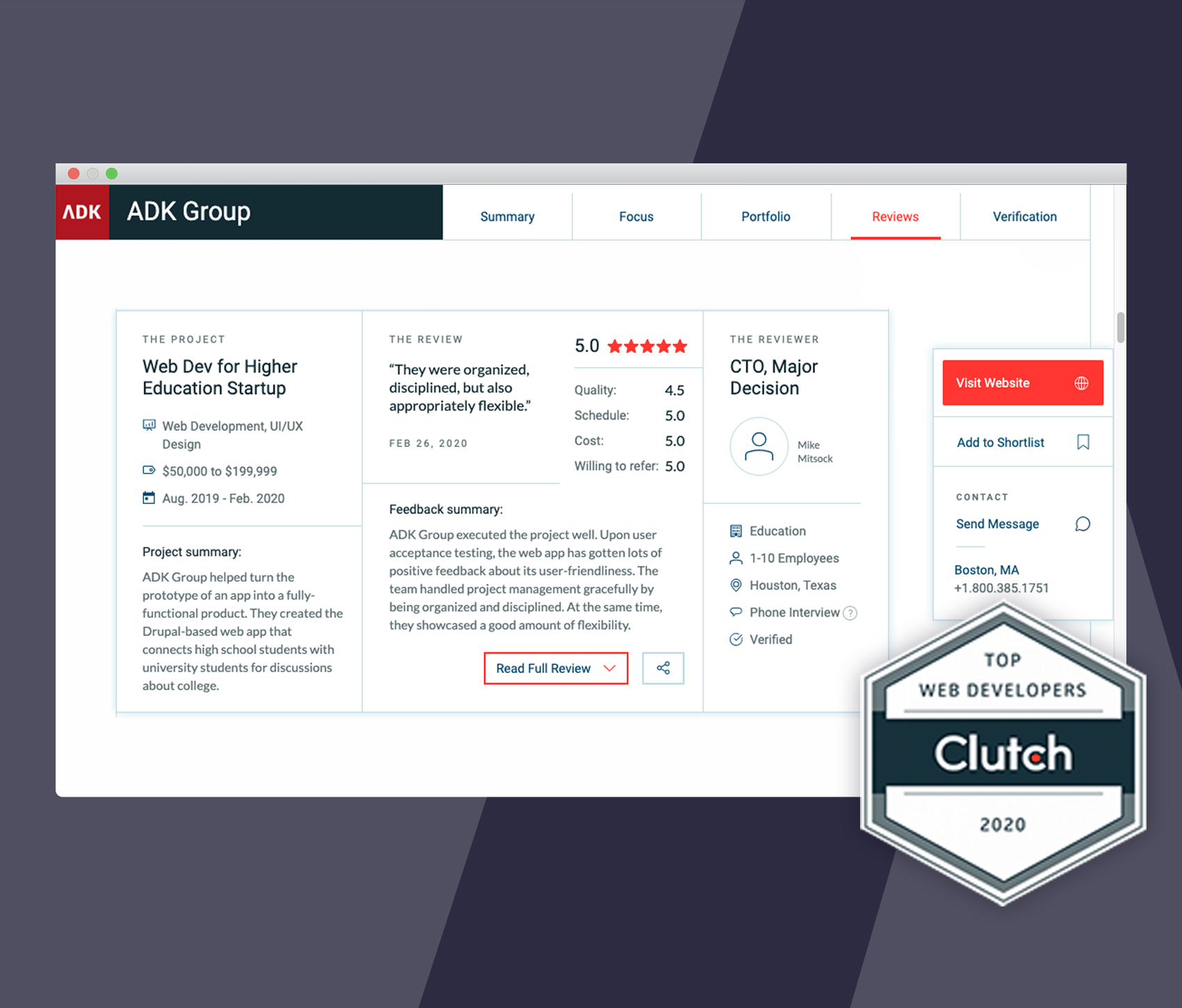 For those who don't know, Clutch is a B2B market research firm that leverages a unique ratings methodology to compare leaders across the B2B service sector worldwide. Needless to say, we couldn't be happier to join the ranks of so many other well-deserving industry peers – and it's all thanks to our partners.
In fact, none of this would have been possible if it weren't for our many partners and collaborators who were kind enough to leave feedback on Clutch, sharing what they thought set us apart from other agencies. We decided to return the favor with a brief overview of each engagement that shines a light on the incredible companies we've had the opportunity to work with.
Creating a Fully-Functional Product with Major Decision
Major Decision is a conversation platform that allows prospective college students to connect with current college students, giving them a one-of-a-kind chance to ask unfiltered questions about college life and receive honest answers before making their big decision on what college is right for them. The team worked closely with CTO Mike Mitsock to bring Major Decision's two-sided marketplace to life on Drupal. We're currently working together to help Major Decision reach the millions of prospective students with their uniquely valuable service.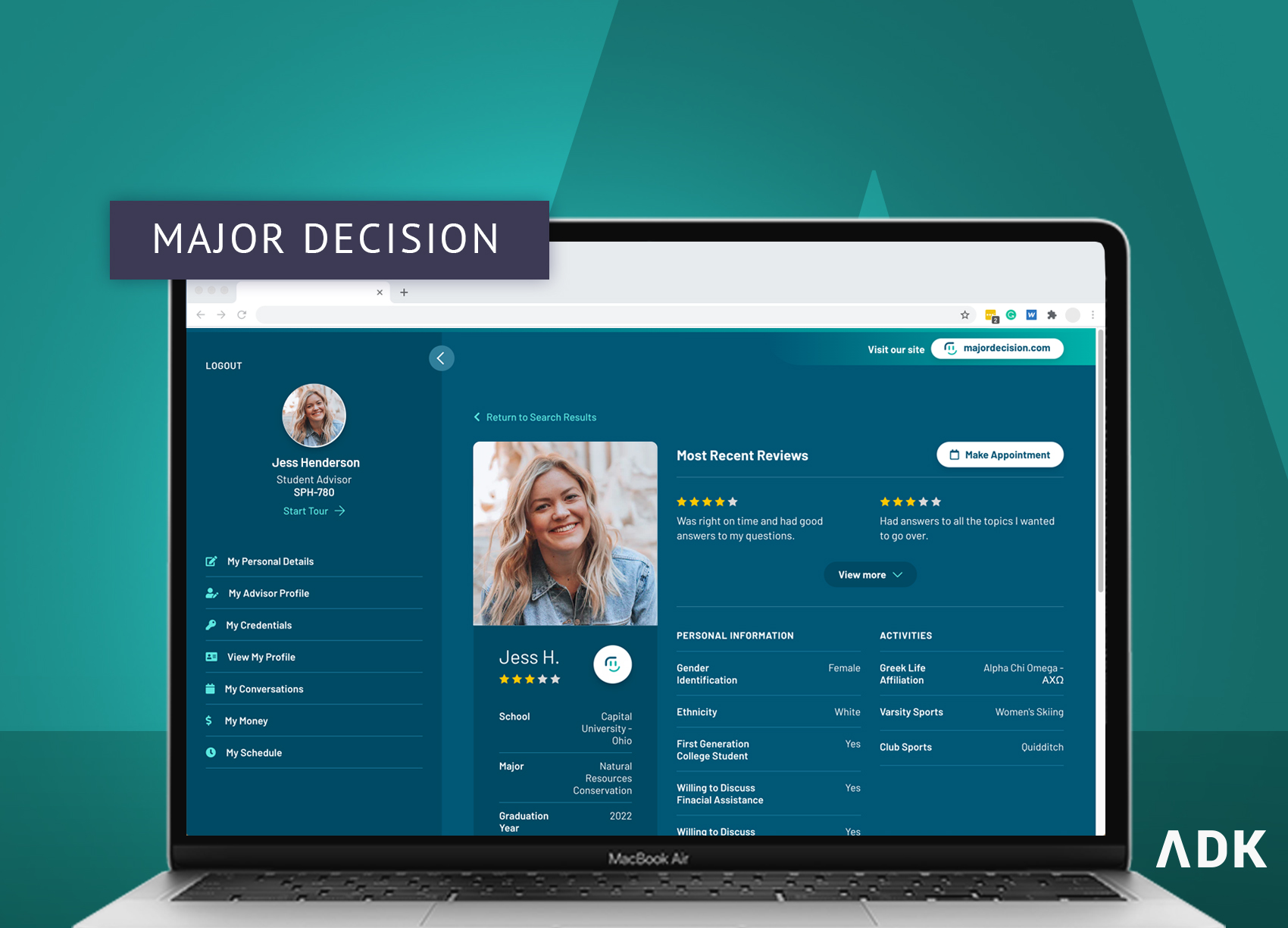 Serving the Greater Good with Greater Boston Food Bank
After getting to know the unique needs and wants of The Greater Boston Food Bank's Assistant Director of Nutrition Adriene Worthington, plus her team of devoted staff members, partners, and volunteers, we were able to redevelop the frontend and the backend of the GBFB website. By making the site easier for the GBFB team to manage, they're now free to focus more on doing what they do best –
Going Above & Beyond with Beyond Insurance
Beyond Insurance's mission is to empower insurance carriers, agents, and brokers to reach their greatest potential – which they can now do efficiently with a new Drupal website design dedicated to insurance coaching and learning. Chief Operating Officer Ashley Correll and co. were a pleasure to work with, and we're happy to report that their new Drupal-powered website nearly instantly attracted many new clients, plus the renewal of many contracts from their past clients.
Redefining mHealth with FireFly Health
FireFly Health's CEO Andy Ellner and his team's key motivation is to reshape what great healthcare looks like, and the primary way they do this is by providing people with proactive, highly personalized primary care – all through the convenience of a custom mHealth app. While building the app, the ADK team prioritized privacy protection to ensure HIPAA compliance, while also creating an in-app video chat functionality to make the experience as convenient as possible for those needing a streamlined telemedicine experience with a great doctor, nurse practitioner, health guide, or other skilled specialist.
Custom Software Development Services for Span Tech's Conveyors
A global manufacturer of multi-patented, modular, plastic chain curving conveyors, SpanTech LLC had a major presence within their industry, but still needed help with their quote processing system. This led to them contacting the ADK team, who was challenged with the task of creating a web-based quote estimation software system by creating a customized interactive tool that supercharged a previously arduous and creaky process. The highly visual, user-friendly program has led to many happy stakeholders – as well as much approval from VP of Operations Dale McDaniel as he continues to oversee this world-renowned manufacturer of plastic-chain conveyors.
Drupal Web Development Services for Hancock Natural Resource Group E-Commerce Site
When Hancock Natural Resource Group needed to rethink the way they processed their orders, they partnered with ADK to find a solution – one that would replace a paper-based and resource-intensive process with a more modern one. That solution, it turned out, was a Drupal-powered website that ADK built from the ground up and continues to help grow.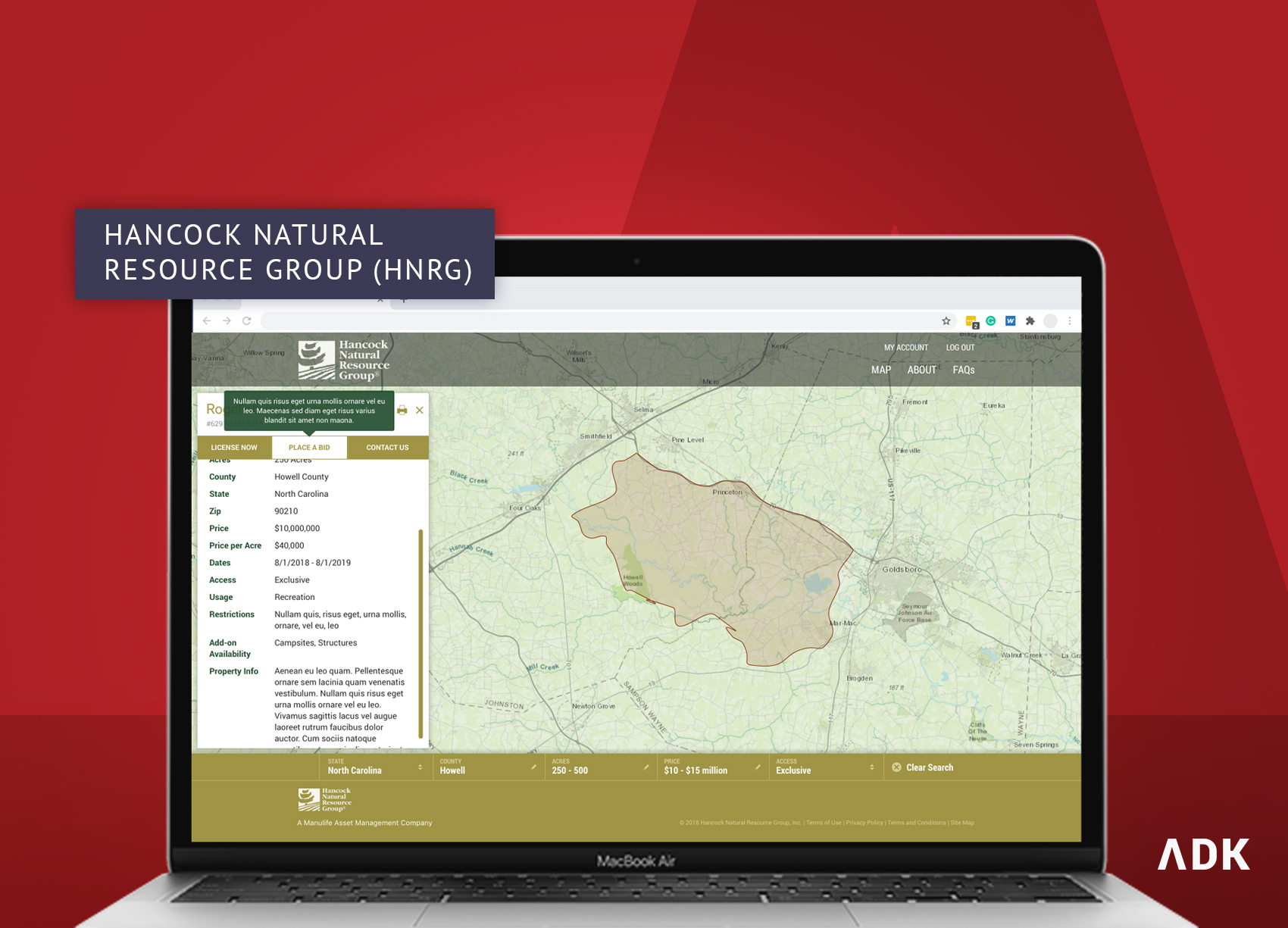 The site now processes 80% of all the company's land orders and has directly resulted in millions of dollars in sales – a massive win for this organization specializing in global farmland and timberland portfolio development and management.
Website Development Services, Digital Marketing Solutions, and More for MCOP
While receiving helpful insights from Medical Center Orthotics & Prosthetics' CEO Ian Fothergill and his team of industry-leading prosthetists and orthotists, the ADK marketing team has been able to act as MCOP's full-service digital marketing resource for over half a decade. Whether it be WordPress web design, application development, SEO, social media management, or some other essential marketing initiative – whatever it takes to help their clients receive industry-leading prosthetic and orthotic care in the most streamlined way possible.
Want to Work With One of Clutch's Top-Ranked Web Developers?
Earning a top spot in Clutch's Top Boston Web Developers category has required a lot of hard work, but ultimately would have been impossible without the opportunity, support, and camaraderie of our partners. We're so thankful to our clients who provided us with feedback on this trusted source of information spanning 150,000+ agencies in 500+ categories.
If you'd like to work with one of the most well-reviewed web developers on this platform, whether on a website or web application (or mobile app!), feel free to contact us today. We're always looking for our next big collaboration!