Why Healthcare Providers Are Focusing on Telehealth Adoption to Meet Patient Expectations
The future of telehealth is upon us – a result of massive strides in process, technology, and policy. It just doesn't feel that way compared to other industries. Our position creating the next generation of mhealth solutions for both consumers and clinicians at the nation's top hospitals gives us a unique vantage point of telehealth adoption.
Digital healthcare solutions have been slowly, and somewhat quietly, expanding. Consumers have been using virtual health monitors for heart rate, blood pressure, or reminders for medications, and these apps are largely available for free download on mobile phones or tablets, or through digital assistants like Google Home or Amazon's Alexa and Echo products.
Consumers have also been taking advantage of digital healthcare technology for broader uses – mobile health (mHealth) apps like Firefly Health offer virtual primary care, allowing patients to track their health and connect directly with their own care team through their phone.
Similarly, virtual apps like BetterHelp and Talkspace offer mental health counseling without the office visit, while apps like Form Health let users receive medically-guided weight loss from the comfort of their own homes.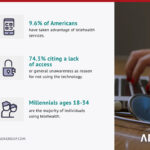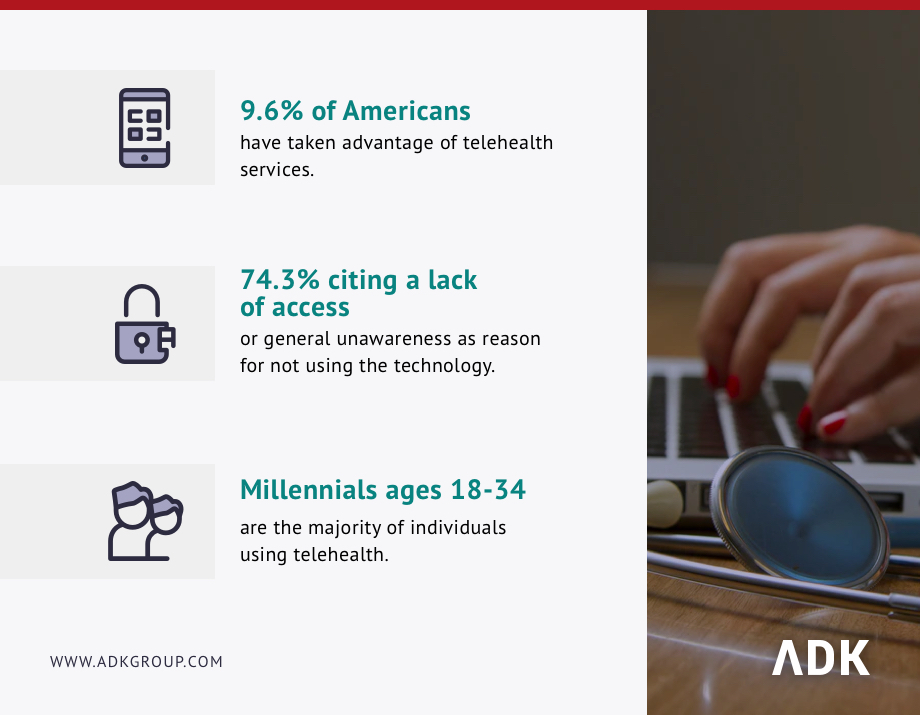 However, despite the growing popularity, a 2019 J.D. Power survey found that just 9.6% of Americans have taken advantage of telehealth services (that's a pretty low rate for custom technology adoption). The remaining 74.3% cited a lack of access or simply being unaware of the technology. Not surprisingly, the majority of individuals using telehealth technology are millennials ages 18-34, and use tends to be higher among healthier populations or those who are more familiar with conducting personal matters digitally.
Of course, there is one glaring shift that has recently changed the game for telemedicine – the COVID-19 pandemic. Hospitals, health systems, and care providers have been faced rather suddenly with the need to pivot some patient care from in-person to telehealth visits when appropriate.
What is Telemed and How is it Different from Telehealth?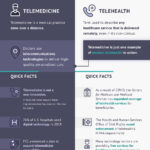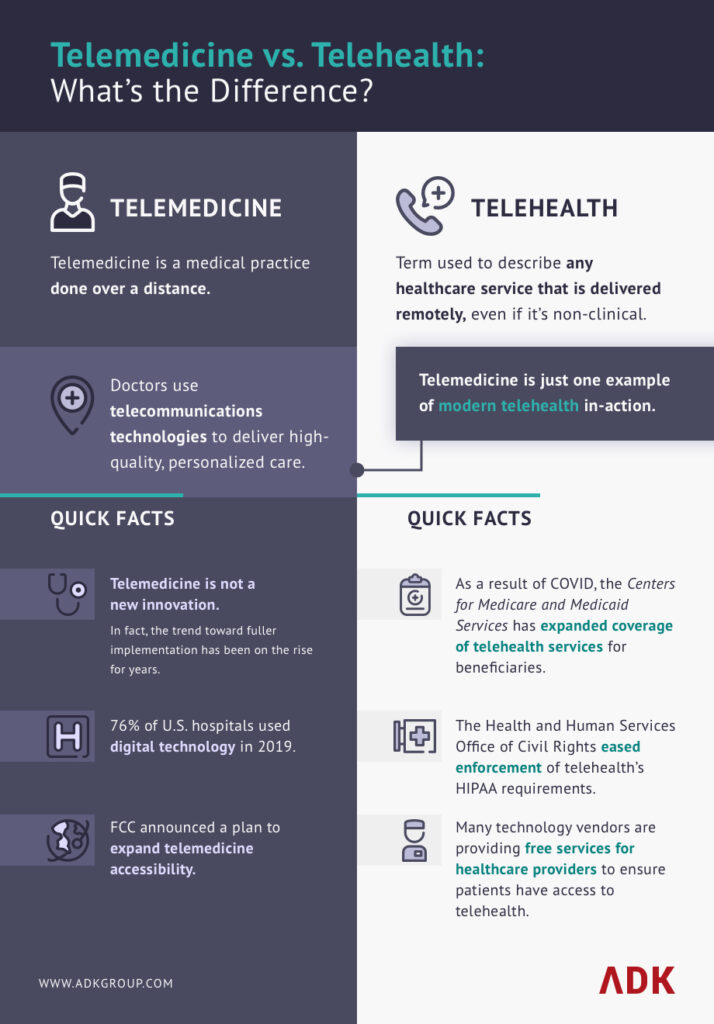 Telemed, or telemedicine, is medical practice done over a distance. A doctor practicing telemedicine would use telecommunications technology to deliver care to a patient in a separate physical location. It goes beyond just a phone call to include any remote clinical care provided by a doctor for a patient (contributing to the recent evolution of doctor-patient relationships). Many patients are familiar with online health portals where they can receive messages from their provider, view test results, get alerted to upcoming appointments, chat with a specialist, or browse resources specific to their care.
Telemedicine is a subset of telehealth, which is any health care service delivered remotely, even if it's non-clinical. Any non-clinical health care service delivered at a distance can be considered telehealth. This includes remote monitoring of vital signs using connected ECG or blood pressure devices.
Telemed technology has proven valuable during the COVID-19 pandemic as hospitals and doctor's offices try to limit in-person visits for the protection of patients and healthcare staff, and stagger appointments to avoid crowded waiting rooms
Under more normal conditions (i.e. not during a pandemic) telemed technology, while not a replacement for in-person care, is also useful for remote management of a known health issue or post-op care, appointment follow-ups, consultations that don't require an office visit, or to accommodate patients who may have difficulty traveling for appointments.
Today, coronavirus is driving a broader use of telemedicine technology to minimize exposures for both patients and providers. But the sudden onslaught of COVID-19 cases flooding hospitals and care facilities begs the question – how prepared were providers to substitute in-person care with healthcare telemed technology?
Adapting to a Rapid Shift Toward Healthcare Telemed Technology
Telemedicine technology itself is not a new innovation hastily created in response to coronavirus. In fact, 76% of U.S. hospitals (as of 2019) use digital technology to connect with patients, according to the American Hospital Association. The trend toward partial or full implementation of healthcare telemed technology has been on an upward trajectory for years.
Telehealth adoption has been driven by a combination of patient demand, advances in technology, and a realization on the part of healthcare organizations that transitioning some care to a digital format can save millions for both providers and patients by reducing visits to emergency rooms, urgent care facilities, and retail clinics.
And the proof exists that individuals are using telehealth in place of emergency room or urgent care visits – that same J.D. Power survey found that from 2016-2017, insurance claims for telehealth or other alternative care services reached 54%, eclipsing claims from emergency rooms, urgent care centers, and retail clinics combined. We can safely presume the number has only risen since that time.
But there is a catch. Just like any consumer-facing service, patients not only are increasingly expecting the availability of telemed technology through their healthcare provider, but they have expectations around the value of those services.
A 2018 Deloitte survey of consumer experiences in virtual healthcare found that there is room for improvement in the quality of virtual care, suggesting that healthcare providers should specifically train clinicians in this area of care to ensure an acceptable "webside manner". This type of focus will help maintain the more traditional doctor-patient relationship, even as it shifts to a digital platform.
Who Uses Telehealth Services?
Although the millennial group makes up the largest percentage of telemed users, they are by no means the final word on who is or will be taking advantage of telemed technology. Older adults use telemed technology for urgent care, chronic care management, and behavioral health, among other reasons, and one study found that 25% of those surveyed said they would switch providers in order to have access to telemedicine.
And the Federal Communications Commission (FCC) announced in 2019 a large effort that would result in a significant expansion of telemedicine – a three-year pilot program called Connected Care that would invest $100 million into providing discounted telemed connectivity to health organizations serving low-income individuals, veterans, or rural areas with limited healthcare access.
This effort piggybacks on the FCC's finding that 34 million Americans lack broadband access, with 40% of those living in rural areas.
For these reasons, telemedicine technology isn't just a convenient solution for patients and their providers, but something that could bridge a divide in how adequate healthcare is provided in America.
And with 35 states (and counting) enacting "parity laws" that require health insurers to cover telemedicine services the same way they would in-person services, there is slow but steady movement toward a world where traditional healthcare and telemedicine don't have to be mutually exclusive.
The Future of Telemedicine Post-COVID-19
While telemedicine is already present in many healthcare facilities, it has never been more center-stage than during the COVID-19 pandemic. And because of its current hyper-critical role in patient care, several of the restrictions and regulations that previously caused barriers for providers to offer telemedicine to patients have been lifted. These include:
Limited coverage and payment for Medicare and Medicaid recipients: As a result of COVID-19, the Centers for Medicare and Medicaid Services has temporarily expanded coverage of telehealth services for beneficiaries.
HIPAA compliance requirements: The Health and Human Services Office of Civil Rights has temporarily eased enforcement of HIPAA compliance requirements for telehealth communications technology.
Vendor fees for telemed technologies: Many technology vendors are providing products and services for free to healthcare providers to ensure patients can take advantage of social distancing efforts and get information, communicate with their provider, or conduct any non-essential appointments remotely.
Social distancing, care limitations, scarce resources, and general preventive measures being taken by hospitals and other healthcare providers during the pandemic have essentially forced many individuals to use telemed technology for remote care who otherwise may not have done so.
For this reason, we are seeing COVID-19 serve as a catapult for making this technology more widespread and more acceptable among patient groups of all ages going forward. Being exposed to remote care out of need will likely correspond with an increase in comfort when utilizing this type of technology during more normalized circumstances.
And with an increased comfort level, healthcare providers who either don't yet offer telemed technology or haven't developed it fully may begin to feel the pinch as it becomes more mainstream and expected.
Considering apps like Form Health, Talkspace, and Firefly, there is a trend occurring around virtual healthcare for patients who wish to take advantage. While these apps certainly won't take the place of in-person care for many reasons, they are helping shape a landscape for virtual care that is only going to expand, especially following the COVID-19 pandemic.
And we're more than prepared to help healthcare providers make this shift. 
For more than a decade, ADK has built HIPAA-compliant mobile apps, doctor-facing dashboards, and websites for leading health organizations like Massachusetts General Hospital and Brigham & Women's Hospital, as well as mobile health (mHealth) companies at the forefront of virtual care like the aforementioned Firefly Health.
To continue pushing telemed services forward for patients, hospitals and other healthcare providers must consider a few key hurdles:
Demonstrating to patients that telemed is just as good in certain circumstances as an in-person appointment.
Working with insurance companies to ensure patients who want access to telemed services can take advantage.
Communicating the savings to patients who choose a telemedicine option over an ER or urgent care visit where appropriate.
Upgrading technology to accommodate the needs of services for all patients who may want to take advantage of telemed technology as part of their healthcare.
It's time to adopt or advance healthcare telemed technologies at your organization. The benefit during the COVID-19 pandemic is clear, but the payoff will last well beyond these unprecedented times. Contact us today